Jobs in UK
Build Your Careers and Jobs in England


Jobs in UK
Top employment trends in London. UK employers are focusing on functional areas that have the greatest impact on revenue first. After the public sector job losses and with high youth unemployment, the UK labor market is still very fragile. At the same time, the number of private sector jobs is growing and a recent study among UK business leaders by CareerBuilder.co.uk showed more cautious hiring trends across all industries.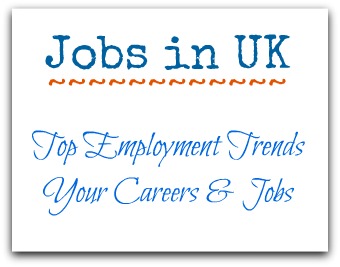 Top employment trends in London

While the majority of UK employers (73 per cent) described their organization financial performance as steady or growing in the survey, 28 per cent reported it is declining or uncertain. Thirty-nine per cent of UK employers plan to add new employees in 2011 with a mix of full-time, part-time, contract or temporary workers and interns. One-in-five (20 per cent) plan to add full-time, permanent staff.

"Employers are hiring again, albeit at a guarded pace," said Tony Roy, President of CareerBuilder EMEA. "Our survey and job posting activity on CareerBuilder.co.uk point to gradual, moderate improvements in the UK job market in 2011. We'll see more jobs added across a variety of industries, but it will still be a highly competitive job market." - Jobs in UK
Top functional areas employers are
recruiting for in 2011
UK employers are focusing on functional areas that have the greatest impact on revenue first. Creating new efficiencies, driving innovation to open new revenue streams, extending customer reach and strengthening customer loyalty are among top priorities within organizations. Technology is the number one area cited for hiring with one-in-five employers planning to add headcount:
Technology - 20 per cent
Sales - 18 per cent
Engineering - 14 per cent
Creative/design - 12 per cent
Customer service - 10 per cent
Marketing - 8 per cent

Here are four trends hiring managers and human resource professionals said they foresee regarding staffing in 2011:
Emerging Opportunities
UK employers reported the need for workers to fill what they consider emerging positions within their organisations. Green jobs, or environmentally-focused positions, were cited most often in terms of new opportunities followed by positions centered around global relations, social media, the use of mobile technology and cyber security.




Temporary or Contract Hiring
Businesses will be relying on interim solutions to help shoulder growing workloads. Eighteen percent of UK employers plan to hire temporary or contract workers to help supplement leaner staffs.




Entry-level Hiring
In addition to seasoned workers, employers will be investing in the next generation of talent for their organizations. Thirty-one per cent of those hiring plan to recruit recent college graduates in 2011.




Compensation
Twenty-seven per cent of UK employers are concerned that best talent will leave their organizations once the economy improves, as heftier workloads and longer hours take their toll on worker morale. Thirty per cent said they will increase compensation for their existing staff in 2011 with the majority estimating the raise will be three per cent or less. Twenty-two per cent of those hiring will provide higher initial job offers to job candidates with most increases likely falling within the same 1 to 3 per cent range.
Jobs in UK Resource: CareerBuilder.co.uk.
Top Jobs in UK Resources For Your Dream Career
---
To the Top of Jobs in UK
Back From Jobs in UK to For Your Dream Career
Copyright ©2006-2020 For-Your-Dream-Career.com