Information Technology Jobs
IT Jobs from Home

Information Technology Jobs: most IT occupations are expected to remain in high demand and have strong job growth.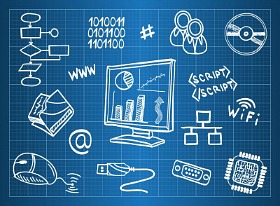 Information Technology Jobs - Amari and Aaron have always loved computers. Both planned to enroll in the computer science department at their local universities and pursue careers in information technology. But now, as high school graduation draws near, neither student is sure what to do.

Amari and Aaron are not alone in their uncertainty. In recent years, students, workers, and jobseekers have received mixed signals about the job market for information technology. Periods of strong job growth have been punctuated by brief periods of employment declines. Optimism about information technology, commonly referred to as IT, as a career field has been tempered by concerns about job security and competition abroad. Jobseekers and students, unsure of what the future holds, are understandably confused about the direction in which IT careers are headed.

But, as this analysis shows, the IT field continues to offer opportunities for jobseekers who have the right skills and training. The good news for Amari and Aaron is that most IT are expected to remain in high demand and have strong job growth. Data in this article are from the U.S.Bureau of Labor Statistics(BLS)
Who Are IT Workers?
Information Technology Jobs - There is no universal definition of the IT workforce. For purposes of this article, IT workers are grouped into 10 selected occupations commonly identified for their computer-related focus. These occupations are in nearly all areas of the country and in nearly all types of organizations. Workers in most of the occupations are in demand—and, as a group, earned wages that were almost twice the national average of $40,690 in May 2007, according to BLS.
Computer and information research scientists explore new ideas in information technology. They create and refine the theories that are the starting point for many computer products and systems
Computer and information systems managers are in charge of the computer systems in an organization. They determine which IT products the organization needs—such as computers, networks, and software—and supervise the workers who operate these products.
Computer hardware engineers design computer hardware, such as computer chips, circuits, and drives. These engineers' products are in personal computers, cellular phones, and cars, among other equipment.
Computer software engineers design computer software. They analyze the needs of computer software users and then design, develop, and test software to meet those needs.
Computer programmers translate the designs of software engineers into computer code—a language that the computer understands. This code tells the computer what to do, such as to navigate to a Web page when the user clicks on a link to that page.
Database administrators determine the best way to organize and store data. They deploy and maintain database software systems and take steps to ensure that the data remain secure.
Network systems and data communications analysts plan, design, and test computer systems. They also design new ways for computer systems to share information.
Computer systems analysts help businesses and other organizations select the best products for their computing needs. They determine which types of systems and software will help an organization reach its goals and recommend ways to keep the systems safe.
Network and computer systems administrators oversee the computer networks and systems in an organization. They make sure that computer systems run efficiently, and they maintain system security.
Computer support specialists fix technical problems for computer users. Some of these workers run diagnostic programs and perform network maintenance. Others answer users' technical questions or install computer equipment in customers' homes or businesses.
Future prospects

Information Technology Jobs - Every 2 years, the BLS Occupational Statistics and Employment Projections program produces long-term employment projections for occupations, industries, the labor force, and the overall economy. Data from the most recent set of projections indicates that the outlook for technology jobs is relatively bright. Employment in combined IT occupations is expected to increase by more than 800,000 jobs over the 2006–16 projections decade. This increase represents expected job growth of 24 percent—compared with 10 percent growth for all occupations. So, opportunities should be plentiful for workers who hope to enter the IT field.

IT workers are needed in nearly all types of organizations, from retail establishments to manufacturing plants. As IT operations expand across the economy, demand for IT workers should expand along with them. Although offshoring is likely to continue, BLS research suggests that job opportunities in information technology will continue to be excellent. And a study by the Association for Computing Machinery finds that even though offshoring may increase, prospects for IT workers in the United States will be strong.

As the chart shows, employment in several IT occupations is expected to grow especially fast over the 2006–16 decade. With a projected employment increase of 53 percent—more than 5 times the rate for all occupations—network systems and data communications analyst is projected to be the fastest growing IT occupation. It's also projected to be the fastest growing of all occupations in the United States. As businesses and other organizations continue to adopt newer, more efficient computer networks, these workers will be in high demand.

But one occupation is expected to see employment declines. Employment of computer programmers is projected to decrease by 4 percent from 2008–18. Continued offshoring in this occupation, as well as increased efficiency, will reduce demand for programming services during the projections decade.Employment in Information Technology
For more information

Source:Information Technology Jobs - The Occupational Outlook Handbook, available in many libraries and online at www.bls.gov provides in-depth information about the occupations described in this article.
Copyright ©2006-2020 For-Your-Dream-Career.com