Find Your Hotel Jobs in Hospitality Industry


Hotel Jobs
Employment of information clerks is expected to grow by 7 percent from 2010 to 2020, slower than the average for all occupations. However, employment growth will vary by specialty, according to most updated info from U.S. Bureau of Labor Statistics.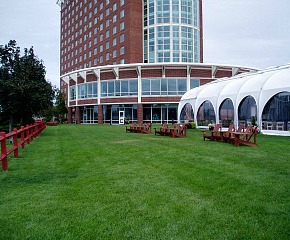 Hotels Industry Outlook
The US hotel and motel industry consists of about 36,000 companies that operate 48,000 properties, with combined annual revenue over $120 billion. Large US companies include Marriott International, Hilton Hotels, Carlson Hotels, and Starwood Hotels & Resorts. The industry is fragmented with the 50 largest companies controlling about 45 percent of the market. The majority of hotels are part of a chain. The average revenue per hotel is about $2 million. - Resource: http://firstresearch.com

The hotels and other accommodations industry is expected grow by 5 percent over the 2008-18 period. The industry employs large numbers of part-time and younger workers who typically do not stay in these jobs for very long. The need to replace these workers will create job opportunities in an array of occupations and localities.
Employment
Hotel, motel, and resort desk clerks held about 1,605,300 jobs in 2010. Employment of information clerks is expected to grow by 7 percent from 2010 to 2020, slower than the average for all occupations. However, employment growth will vary by specialty.

Employment is concentrated in cities and resort areas. Compared with establishments in other industries, hotels and other accommodations tend to be small. About 74 percent employed fewer than 20 workers and 54 percent employed fewer than 10. As a result, lodging establishments offer opportunities for those who are interested in owning or running their own business. Although establishments tend to be small, the majority of jobs are in larger hotels—those with more than 100 employees.
Job Prospects
In addition to job growth, job opportunities for hotel and motel desk clerks are expected to be good because of the need to replace the many clerks who either transfer to other occupations that offer better pay and advancement opportunities or who leave the workforce altogether. Opportunities for those willing to work a variable schedule should continue to be plentiful.- Hotel Jobs in Hospitality Industry
Earnings
The median annual wage of information clerks was $29,990 in May 2010. The median wage is the wage at which half the workers in an occupation earned more than that amount and half earned less. The lowest 10 percent earned less than $18,210, and the top 10 percent earned more than $47,700.
---
Hotel Jobs Information Source:
http://www.bls.gov
Hotel Jobs Sources

www.bls.gov The Bureau of Labor Statistics (BLS) is the principal fact-finding agency for the Federal Government in the broad field of labor economics and statistics. The BLS is an independent national statistical agency that collects, processes, analyzes, and disseminates essential statistical data to the American public, the U.S. Congress, other Federal agencies, State and local governments, business, and labor. The BLS also serves as a statistical resource to the Department of Labor.
www.hcareers.com Hcareers, the leading online hospitality job board in North America, is celebrating ten years as the top recruitment source for connecting employers and candidates within the hospitality industry.

www.harborlightrecruiting.com Harbor Light Recruiting offers professional recruiting services customized to meet your immediate business needs. Based in Ft. Lauderdale, Florida the company has regional recruiting capacity throughout the United States with robust talent pools of pre-screened professionals.

www.hospitalityresourcenetwork.com Hospitality Resource Network was created by a couple who collectively worked in the hospitality industry for 32 years. Their experience spans throughout hotels including food and beverage, rooms, housekeeping, and human resources. They began their careers in front line hourly positions and worked through various other positions until ultimately managing various properties.
Hotel Jobs in Hospitality Industry
Copyright ©2006-2020 For-Your-Dream-Career.com