Top Executives Held About 2.1 Million Jobs In 2010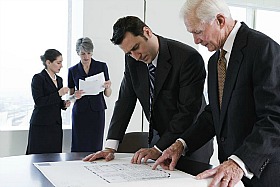 Employment
Top Executives held about 2,136,900 million jobs in 2008. Employment by detailed occupation was distributed as follows:
General and operations managers 1,733,100
Chief executives 400,400
Job Outlook
Employment of this position including chief executives and general and operations managers—is expected to experience little to no change from 2008 to 2018. job growth is expected in the fast-growing health services industry, while employment declines for top executives are projected for many manufacturing industries.

Keen competition is expected for this positions because the prestige and high pay attract a substantial number of qualified applicants. Because this is a large occupation, numerous openings will occur each year as executives transfer to other positions, start their own businesses, or retire. However, many executives who leave their jobs transfer to other executive positions, a pattern that limits the number of job openings for new entrants to the occupation.

Experienced managers whose accomplishments reflect strong leadership qualities and the ability to improve the efficiency or competitive position of an organization will have the best opportunities. In an increasingly global economy, experience in international economics, marketing, and information systems, as well as knowledge of several languages also may be beneficial.
Education Requirement
Many top executives have a bachelor's or master's degree in business administration, liberal arts, or a more specialized discipline. The specific type and level of education required often depends on the type of organization for which top executives work. College presidents and school superintendents, for example, typically have a doctoral degree in the field in which they originally taught or in education administration.

Some of this positions in the public sector have a degree in public administration or liberal arts. Others might have a more specific educational background related to their jobs.

Many the positions are filled from within the organization by promoting experienced lower level managers when an opening arises. In industries such as retail trade or transportation, for example, individuals without a college degree may work their way up within the company and become executives or general managers. When hiring this position from outside the organization, those doing the hiring often prefer managers with extensive managerial experience.
Earnings
The positions are among the highest paid workers in the United States. However, salary levels vary substantially, depending on executives' responsibilities and lengths of service and the types, sizes, and locations of the firms, organizations, or government agencies for which they work. For example, a top manager in a large corporation can earn significantly more than the mayor of a small town.

The median annual wage for chief executives was $165,080 in May 2010. The median wage is the wage at which half the workers in an occupation earned more than that amount and half earned less. The lowest 10 percent earned less than $75,160, and the top 10 percent earned more than $166,400.

The median annual wage for general and operations managers was $94,400 in May 2010. The lowest 10 percent earned less than $47,280, and the top 10 percent earned more than $166,400. Because the responsibilities of general and operations managers vary significantly among industries, earnings also tend to vary considerably.
---
Source:
http://www.bls.gov
Copyright ©2006-2020 For-Your-Dream-Career.com