Import Export Specialist For Export Import Business

Import Export Home Business | Import from China | Import Export Resume Example
GT Advanced Technologies / BIC Corporation / MIQ Logistics are leading worldwide companies looking for import export business talents who are interested in Import Export field.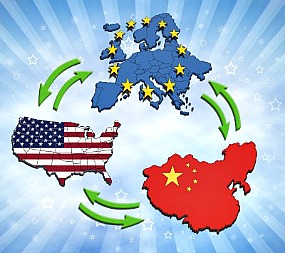 Job Description Of Import Export Specialist
GT Advanced Technologies Company

GT Advanced Technologies is a leading global provider of polysilicon production technology, and sapphire and silicon crystalline growth systems and materials for the solar, LED and other specialty markets. Our equipment and services support the growth of the Solar and LED industries and accelerate the adoption of renewable energy for a more sustainable world. Click Here to apply this Import Export Specialist position.

Key Duties & Responsibilities:
The Import/Export Specialist creates and executes plans that ensure GT compliance with U.S. export laws and regulations as well as with U.S. import restrictions. This position creates and implements licensing and control processes to ensure compliance.
Investigating license requirements for exports of equipment, software, systems and technology.
Creating and maintaining export compliance manual(s), documentation and data repositories; develop & maintain documentation process for export compliance activities.
Developing and updating product matrices with export classification commodity numbers (ECCN) and Schedule B numbers for commodities, equipment, software, systems and technology exports.
Together with the legal department consult with Bureau of Export Administration to interpret government regulations and accurately applying them to business activities.
Job Description Of Import Export Specialist
at BIC Corporation

BIC Corporation Consumer Products is a division of BIC USA Inc., is headquartered in Shelton, Connecticut. Professionals who join BIC here are responsible for company's consumer product business, business management operations, and BIC North American operations and global category. BIC newly renovated building just opened in February 2008 and provides an accessible, state-of-the-art workplace environment for approximately 300 employees. Complete with a beautiful scenic view of the Trap Falls Reservoir and a special employee walking-trail. Click Here to apply this Import Export Specialist position.

Key Duties & Responsibilities:
Manage the movement of products/equipment/materials in and/or out of the country in accordance with organizational policy and procedure, and in compliance with relevant local, country and international law.
Work closely with the Legal department in order to establish and maintain effective import/export transactions and support supply chain operations.
Update database in JDE based on current U.S. laws and regulations.
Work with freight forwarders to resolve irregular activity. Manage Transfer Pricing for Exported Countries.
Manage the necessary documentation and forms for the lawful execution of all import/export activities.
Manage Free Trade Agreements by researching eligibility based on country and product.
Job Description at MIQ Logistics

MIQ Logistics provide services in and between more than 80 countries. With the support of MIQ thousands of logistics professionals, this infrastructure can deliver seamless end-to-end supply chain solutions around the world. Click Here to apply this Import Export Specialist position

Key Duties & Responsibilities:
Develop skills in data entry of transportation data from a regulatory and tracking perspective
Insures regulatory requirements and proper documentation, including transit documents and customs clearances, exists for shipments. Ensure documentation is accurately processed, distributed and released to carrier, forwarders, customers and agents in a timely manner.
Prepare all necessary data entry and confirmation of key milestones (departure, arrival, customs clearance, PODs, etc.) as specified by Customer Standard Operating Procedures.
Back to Top
Back to For Your Dream Career Career Home
Copyright ©2006-2020 For-Your-Dream-Career.com