Catering Sales Manager Resume
For Restaurant Jobs


Catering Sales Manager
In this type of sales job, you must definitely be a Closer, a Relationship Builder, Hungry for Success, and a Team Builder. This Sample Resume provides you one page resume and one page cover letter. Click the link here to read the Catering Manager Cover Letter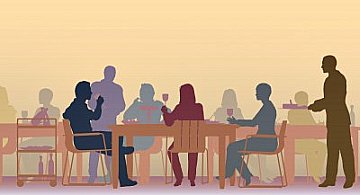 ---

Lynn Evans
1234 Northshore Drive
Wilkes-Barre,Pennsylvania 18773
(717)399-0987

Professional Objective & Profile
High-caliber, highly motivated Sales professional is seeking a position that will fully utilize more than 13 years of progressive experience encompassing positions in Sales and Client Relations. Desire a position that will provide a challenging opportunity to significantly contribute to a company's efficiency, organization, growth, and profitability.


Education
Associate of Science in General Business Administration
State Community College,Wilkes-Barre,Pennsylvania


Professional Experience
Catering Sales Manager
Presidential Hotel Convention Center
Wilkes-Barre,Pennsylvania - 1988 to Present
Company Track Record of Success: Began with Presidential Hotel in 1988 in Room Service, then advanced to Banquet Server, Banquet Captain and to current position in 1994 as Catering Sales Manager. Consistently advanced to positions of higher levels of authority and responsibility.

Sales & Profitability: Responsible for selling catering services to organizations and businesses for major conventions for up to 1500 guests. Solicit and obtain new accounts as well as maintain existing clients. Generate more than $1 million in annual sales in Food & Beverage.

Account Management: Manage new business development and strategic planning to maximize growth and profitability. Establish growth plans for catering services and personally manage account calls, presentations, and negotiations. Totally responsible for planning, coordinating and managing the PGA Senior Classic in 1994,1995 and 1996. This involved coordinating Clubhouse and sky box activities, and arranging extensive catering services.

Client Relations: Establish and maintain an exemplary network of business associates as a result of extensive interaction and strong communication with community businesses and organizations on an ongoing basis.

Meeting Planning: Organize special meetings, reservations, menu planning/development, and requirements for convention facilities, which includes coordinating audio visual services. Coordinate special events and activities for individual clients.

Budget Management: Assist in managing overall budget for catering services. Analyze and project budget needs and operate within budgetary guidelines.
Management: Managed the organization and coordination of banquets.
Meeting Planning: Worked closely with meeting planners to facilitate specific needs and requirements.
Supervision: Supervised staff members and monitored overall job performances to ensure accuracy and adherence to standards and specifications.

Customer Service Representative & Secretary
Manufacturing & Distributing,Inc.
Philadelphia, Pennsylvania - 1984 to 1988
Accounting: Prepared accounts receivable and accounts payable for company. Also responsible for payroll for up to 50 employees.
Catering Sales Manager Resume
---
Catering Sales Manager Jobs Related Information
All Culinary Schools
All Culinary Schools is an online directory of culinary education and careers. They strive to be the finest resource available allowing prospective students to: Search for schools by location, degree and/or subject area; Compare and research schools; Request free information from schools; Explore education options and career paths.
Catering Sales Jobs
The best 13,085 jobs in & around Washington. washingtonpost.com is the #1 news & information web site used by the Executive and Legislative branches of government.
Monster.com
Monster Worldwide, Inc. (NYSE: MWW) is the parent company of Monster.com, the premier global online employment solution for people seeking jobs and the employers who need great people. Monster.com has been doing this for over ten years, and have expanded from their roots as a "job board" to a global provider of a full array of job seeking, career management, recruitment and talent management products and services.
CareerJet
Careerjet is a job search engine designed to make the process of finding a job on the internet easier for the user. It maps the huge selection of job offerings available on the internet in one extensive database by referencing job listings originating from job boards, recruitment agency websites and large specialist recruitment sites.
Copyright ©2006-2020 For-Your-Dream-Career.com