Sample Resume Sales
A Sales Resume for Industrial Sales Jobs


Sample Resume Sales
Sales is a business based on relationships. Remember this when you write your resume. Don't pad your resume with false statements, because later you will have to live up to whatever you wrote in your resume. See how this Sample Sales Resume help you creating a resume that gets an employer excited about You... Sample Resume Sales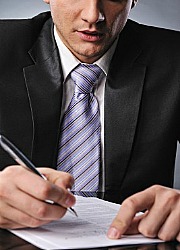 James R.Patterson
102 Lakeview Drive,
Orchard Lake, MI 48000
(810)555-3233
Qualifications
Five years experience in sales, with a demonstrated track record of outstanding sales achievements.
Abilities
Designing systems for prospecting and generating leads.
Negotiating: Closing the deal on the "impossible" sale.
Developing strategies that win customers from the competition.
Leading: Motivating staff to excel by instilling confidence and creating incentives. Coaching staff on sales techniques.
Introducing and promoting new product lines.
Experience
FURNITURE GALLERY, DETROIT, MICHIGAN
Sales Manager - Promotion (JULY 1993 to Present)
Sales Representative
Manage 25,000-square-foot bedroom furniture showroom and 5,000-square-foot warehouse with $110,000/month in sales(#1 showroom in the company). Oversee inside sales, staff of five, inventory, customer service, and bookkeeping.
After assuming manager position, increased monthly sales from $85,000 to an average of $110,000-a 30% increase which has remained consistent since that time. Personally generate $35,000-$45,000 of that volume.
Consistently #1 Sales Representative in the showroom, and within top two Sales Representatives corporate-wide(of eight stores in the Detroit Metro Area.)
Excellent closing ratio: 80%-85%. Continually exceed sales targets.
Introduced new prospecting system that has successfully increased sales corporate-wide.
Changed the layout of the showroom by grouping together bedroom sets, which has increased sales of complete bedroom outfits.
Introduced employee incentives that have decreased absenteeism and increased sales.
Reorganized warehouse for easier access and inventory control.

SUPERIOR BEDROOM COMPANY, KALAMAZOO, MICHIGAN
Sales Representative (MAY,1990 to JULY,1993)
After first three months in sales, was #1 Sales Rep in the company(of two stores). Participated in numerous trade shows and conventions.
Education
Bachelor of Science-Organizational Communication(Expected JUNE,1997);
Eastern Michigan University, Ypsilanti,Michigan (1993 - Present)
Western Michigan University, Kalamazoo, Michigan (1990 - 1993)
Seminars:Tom Hopkins, "Competitive Edge Selling"
Anthony robbins, "Unlimited Power"
                             Sample Resume Sales Related Resources
---
Sample Resume Sales
Copyright ©2006-2023 For-Your-Dream-Career.com