Career for Woman
What These Women Jobs Are?


11 Ways to Find Women-Friendly Employers | Best Paying Careers for Women

More than 21 million women worked in managerial and professional occupations. Women are making steady progress,even with the economy, companies still are tapping woman for leadership roles and recognizing the importance of it.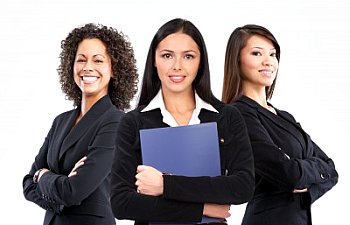 The trend of women's career is still growing. 70% of men are accepting of female bosses, compared with 66% of women. That's the smallest difference in the past 20 years. Nevertheless, men continue to be more accepting of female bosses than women are, a pattern that has prevailed for the past two decades. The difference may be due to the fact that more women have worked for male bosses and therefore, feel more comfortable with them in supervisory roles. Career for Woman

Joel Garfinkle, who is founder of Dream-Job-Coaching.com and he holds a degree in psychology says, women are more open to exploring the possibilities of their dream job than men. While both may be providers in the family, men tend to see themselves as the principle provider. Women are more emotionally open to re-thinking who they are and making a change. Men tend to be more driven and more reluctant to step back and reevaluate. Click Here! for Dream Job Coaching Sources

In the 39 jobs listed, women's median earnings exceeded men's by at least 5 percent and in some cases by as much as 43 percent. To see why,
Best Paying Careers for Woman This article is telling you what industry women are most working for. Not long ago, women who wanted to work were often relegated to careers in teaching or nursing. Today there are female astronauts, business executives, lawyers, doctors, and politicians. But which fields are most lucrative, and why-besides a fat paycheck-should women consider them? Career experts Susan Wilson Solovic , Dr. Laurence Shatkin and Dr. Warren Farrell weigh in on the best-paying career for woman.
U.S. Department of Labor Statistics
on Women's Careers
---
---

The Economics Daily - Women
45.4 percent of employed people with a disability had flexible work hours in July 2021.Employed people with a disability were more likely than those with no disability to have flexible work schedules in July 2021. Workers with flexible work hours can vary the time they begin or end work. In July 2021, 43.8 percent of employed men with a disability and 47.2 percent of women with a disability had flexible work hours.

Women in the Labor Force - 2021
Over 16 million women worked in health care and social assistance in 2021March is Women's History Month, and this year's theme is "Providing Healing, Promoting Hope." We celebrate the amazing accomplishments of women who provide healing and hope by looking at women employed in the health care and social assistance industry.

Median earnings for Women - 2021
In 2021, median weekly earnings for wage and salary workers who usually worked full time were $998. Median earnings for women were $912, or 83.1 percent of men's earnings.

Median Weekly Earnings for Women 2021
Median weekly earnings of the nation's 115.3 million full-time wage and salary workers were $1,001 in the third quarter of 2021. Women had median weekly earnings of $916, or 83.3 percent of the $1,100 median for men.

Top 10 Careers for Women Over 50
Women in their fifties may find midlife is the perfect time for a career change or a new job if they have been out of the market. Employment for women is strong: 72% of women aged 50 to 54 were employed as of February 2022.1 Unemployment remains low in this age sector as well, all good signs for women in the workplace - Investopedia
Best Companies for Women and
Women's Job Sources
---
---

Online Internet Opportunities for Work at Home Mothers
For Work at Home Moms, there are enormous Online Internet Business Opportunity there, from selling E-goods, hard-goods, info-publishing business to help work at home moms find their dreams.

A Work-at-Home Mother's Guide
To Successfully Building a Real Business on the Net, and becoming a high earning mom.

Best 100 Companies for Women
100 companies to work for, most are women. The information includes company size, number of women, job growth, turnover, pay, best benefits, and more...
Career for Woman
to the top
Back to Career Index
Back from Career for Woman to For Your Dream Career Home
Copyright ©2006-2023 For-Your-Dream-Career.com