International Sales Resume Asia / Pacific Rim

International Sales Resume Asia,Pacific Rim
International Sales Cover Letter | Industrial Sales CV | Sample Resume Sales

International Sales Resume
Stress any international sales experience, as well as foreign language skills, if you want an international sales position. This Sales Resume provides you one page resume and one page cover letter. Click the link to read the International Sales Cover Letter Page.
International Sales Resume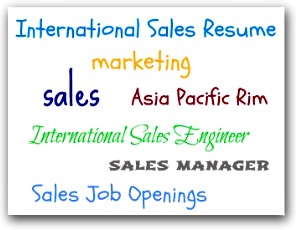 Dynamic... multi-talented... expert international & national sales executive...experienced in developing and expanding markets with O.E.M.Manufacturers throughout the world...fluent in Mandarin Chinese, Taiwanese and English...are just a few of the many qualities I can offer your international company. An expert business professional, I welcome challenging opportunities to significantly contribute to a company's efficiency, organization, development, growth, and profitability.
Education
Master of Business Administration,M.B.A.
Marketing & Operations Management
ILLNOIS INSTITUTE OF TECHNOLOGY, Chicago, Illinois,1992
Bachelor of Science in Industrial Engineering
UNIVERSITY OF WISCONSIN,Madison, Wisconsin,1990
Summary of Accomplishments & Talents
Track Record of Success:
Background exemplifies a successful track record of career accomplishments including 5 years of experience in international & national sales, marketing and account management.
International Sales Expertise:
Successfully initiated and developed several new markets for Pantene Electric Company(based in Chicago, Illinois area)throughout Israel, Jordan, Syria, Turkey, Lebanon, Iran and Pakistan. Strong interpersonal skills with ability to effectively communicate with diverse cultures all over the world.
Languages & International Background:
Fluent in Mandarin Chinese, Taiwanese and English. Born in Taiwan and educated in the United States. Well-traveled with extensive knowledge of, and experience in, the Middle East, Pacific Rim, and other regions and cultures throughout the world. Family members own and operate businesses in the Pacific Rim.
Account Development & Management:
Maintained multimillion dollar sales volume by establishing growth plans and managing more than 50 Original Equipment Manufacturers(OEMs) and Distributor accounts throughout the U.S.,Middle East and North Africa.
Growth & Profitability:
Skilled in developing and expanding a company's sales operations on an international, as well as national basis, and increasing annual sales revenue and profitability for company. Consistently achieve and surpass annual goals by 15%.
Professional Experience
Marketing, Sales, & Production Manager
HALY AIR COMPRESSOR CORPORATION
Chicago, Illinois - 1995 to Present
Recruitment: Recruited to direct an aggressive reorganization and initial sales for international business division.
Sales & Profitability: In charge of sales of Haly Air Compressor products to distributors, sales representatives and engineers. Solicit and obtain new clientele, as well as being in charge of maintaining existing clients through follow-up and service. Assisted in increasing overall sales volume by 52% in 1995, which substantially increased profitability for company.
Marketing: Responsible for strategic planning and development of innovative marketing plans for the purpose of expanding sales and increasing profitability.
Vendor & Client Relations: Interact extensively with vendors and clients, and consistently establish and maintain an exemplary network of business associates by providing superior service and attention to specific engineering needs.
Production: By restructuring and reengineering production procedures, achieved a 20% increase in production in 1995.
Inventory Control: Continuously monitor and review inventory of materials and supplies, and utilize efficiently in order to minimize and maintain inventory costs.
Purchasing: Review and analyze needs for purchasing materials and/or new equipment, and purchase as needed.
International Sales Engineer
Manufacturing Engineering Department(Intern)
PANTENE ELECTRIC COMPANY
Batavia,(Chicago) Illinois - 1992 to 1995
Intern: began as an Intern in 1992 in the Manufacturing Engineering Department. Promoted to full-time, permanent management position due to superior job performance. As an Intern, responsibilities included the following:
System & Program Development: Responsible for developing and implementing a new cost accounting system as a result of performing a Time Study on the Metal Plating Process.
Purchasing: Analyzed cost expenditures and profitability ratios for purchasing a new oil applicator for punch press operations.
International Contract Negotiations: After being promoted to position of International Sales Engineer, traveled worldwide and negotiated, and/or maintained multimillion dollar sales contracts for Pantene Electric Company with more than 50 Original Equipment Manufacturers(OEM) and distributor accounts including international clients throughout North Africa and the Middle East.
Market Analysis: Researched and analyzed foreign markets. Identified potential markets and proposed new products to these markets based on technology trends and engineering needs.
Client Development: Initiated and introduced product lines to foreign companies and provided direction for long range business focus to meet foreign industry changes and needs.
Account Management: Independently managed the entire sales cycle from client identification and account development through presentations, contract and price negotiations, and final sales closings.
International Trade: Established and maintained cooperative working relationships with Foreign Embassies and Trade Delegations including regulatory agencies and import/export organizations and U.S.Trade Delegations.
Special Products Coordinator (Intern)
NATIONAL BANK OF CHICAGO, Chicago, Illinois - 1991
Quality Control Program: As an Intern, developed and implemented a Total Quality Management Program for the Customer Services Group's communication process.
System Development: Assisted the Special Products' Customer Services Group Management team in developing and implementing a System that provided special recognition and services for First Chicago's new customers as well as the exiting, long-standing customers.
International Sales Resume / International Sales Resume
---
International Sales Resume source from:
Sales & Marketing Careers
by
Chuck Cochran and Donna Peerce.

Chuck Cochran is the Co-Founder and President of the Heart & Soul Career Center, and Founder and President of the ResumePLUS,Inc., a full-service career development center specializing in resumes, recruiting, job search assistance, and training. Donna Peerce is Co-Founder and Vice President of the Heart & Soul Career Center and Vice President of ResumePLUS,Inc.
Chuck and Donna are also coauthors of the critically acclaimed "Heart & Soul" Career Series, including Heart & Soul Resumes and Heart & Soul Internet Job Search from Davies-Black Publishing, Palo Alto, CA. Both are Certified Professional Resume Writers and members of the PARW. Each conducts Writing, Career, and Success Seminars throughout the United States.

To The Top
Back from International Sales Resume to For Your Dream Career
Copyright ©2006-2023 For-Your-Dream-Career.com