Catering Sales Manager Resume
For Restaurant Jobs

                                       Catering Sales Manager
                                           Your Opportunity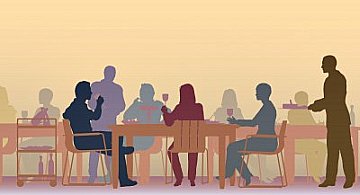 Lynn Evans
1234 Northshore Drive
Wilkes-Barre,Pennsylvania 18773
(717)399-0987
Professional Objective & Profile
High-caliber, highly motivated Sales professional is seeking a position that will fully utilize more than 13 years of progressive experience encompassing positions in Sales and Client Relations. Desire a position that will provide a challenging opportunity to significantly contribute to a company's efficiency, organization, growth, and profitability.


Education
Associate of Science in General Business Administration
State Community College,Wilkes-Barre,Pennsylvania


Professional Experience
Catering Sales Manager
Presidential Hotel Convention Center
Wilkes-Barre,Pennsylvania - 1988 to Present
Company Track Record of Success: Began with Presidential Hotel in 1988 in Room Service, then advanced to Banquet Server, Banquet Captain and to current position in 1994 as Catering Sales Manager. Consistently advanced to positions of higher levels of authority and responsibility.

Sales & Profitability: Responsible for selling catering services to organizations and businesses for major conventions for up to 1500 guests. Solicit and obtain new accounts as well as maintain existing clients. Generate more than $1 million in annual sales in Food & Beverage.

Account Management: Manage new business development and strategic planning to maximize growth and profitability. Establish growth plans for catering services and personally manage account calls, presentations, and negotiations. Totally responsible for planning, coordinating and managing the PGA Senior Classic in 1994,1995 and 1996. This involved coordinating Clubhouse and sky box activities, and arranging extensive catering services.

Client Relations: Establish and maintain an exemplary network of business associates as a result of extensive interaction and strong communication with community businesses and organizations on an ongoing basis.

Meeting Planning: Organize special meetings, reservations, menu planning/development, and requirements for convention facilities, which includes coordinating audio visual services. Coordinate special events and activities for individual clients.

Budget Management: Assist in managing overall budget for catering services. Analyze and project budget needs and operate within budgetary guidelines.
Management: Managed the organization and coordination of banquets.
Meeting Planning: Worked closely with meeting planners to facilitate specific needs and requirements.
Supervision: Supervised staff members and monitored overall job performances to ensure accuracy and adherence to standards and specifications.

Customer Service Representative & Secretary
Manufacturing & Distributing,Inc.
Philadelphia, Pennsylvania - 1984 to 1988
Accounting: Prepared accounts receivable and accounts payable for company. Also responsible for payroll for up to 50 employees.
                                    Become a Food Services Manager
Food service managers typically need a high school diploma, but education requirements for individual positions may vary from no formal educational credential to a college degree. Employers may prefer to hire candidates who have postsecondary education, especially for jobs at upscale restaurants and hotels. Some food service companies, hotels, and restaurant chains recruit management trainees from college hospitality or food service management programs. These programs may require the participants to work in internships and to have food-industry–related experiences in order to graduate. Employment of food service managers is projected to grow 15 percent from 2020 to 2030, faster than the average for all occupations. About 41,400 openings for food service managers are projected each year, on average, over the decade. Many of those openings are expected to result from the need to replace workers who transfer to different occupations or exit the labor force, such as to retire. The median annual wage for food service managers was $59,440 in May 2021.
Catering Sales Manager
Source:
U.S. BUREAU OF LABOR STATISTICS
---
                                Catering Sales Manager Related Links
Copyright ©2006-2023 For-Your-Dream-Career.com