Dietitians and Nutritionists
Know Your Nutritionist Career and How To Become a Nutritionist


Dietitians and Nutritionists
They plan food and nutrition programs, supervise meal preparation, and oversee the serving of meals. They prevent and treat illnesses by promoting healthy eating habits and recommending dietary modifications. Annual earnings of these positions were $53,250 in May 2010. Employment of dietitians and nutritionists is expected to increase 20% during the 2010 to 2020....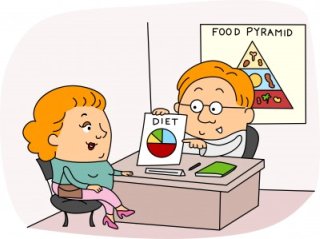 Nature of the Work
For example, dietitians might teach a patient with high blood pressure how to use less salt when preparing meals, or create a diet reduced in fat and sugar for an overweight patient.

Dietitians manage food service systems for institutions such as hospitals and schools, promote sound eating habits through education, and conduct research. Many dietitians specialize,becoming a clinical dietitian, community dietitian, management dietitian, or consultant.

Clinical Dietitians provide nutritional services to patients in hospitals, nursing care facilities, and other institutions. They assess patients' nutritional needs, develop and implement nutrition programs, and evaluate and report the results. They also confer with doctors and other healthcare professionals to coordinate medical and nutritional needs. Some clinical dietitians specialize in managing the weight of overweight patients or in the care of renal (kidney), diabetic, or critically ill patients. In addition, clinical dietitians in nursing care facilities, small hospitals, or correctional facilities may manage the food service department.
Community Dietitians counsel individuals and groups on nutritional practices designed to prevent disease and promote health. Working in places such as public health clinics, home health agencies, and health maintenance organizations, community dietitians evaluate individual needs, develop nutritional care plans, and instruct individuals and their families. Dietitians working in home health agencies provide instruction on grocery shopping and food preparation to the elderly, children, and individuals with special needs.
Job Outlook
Employment of dietitians and nutritionists is expected to increase 9 percent during the 2008-18 projection decade, about as fast as the average for all occupations. Job growth will result from an increasing emphasis on disease prevention through improved dietary habits. A growing and aging population will boost demand for nutritional counseling and treatment in hospitals, residential care facilities, schools, prisons, community health programs, and home healthcare agencies. Public interest in nutrition and increased emphasis on health education and prudent lifestyles also will spur demand, especially in food service management.

Also, with increased public awareness of obesity and diabetes, Medicare coverage has been expanded to include medical nutrition therapy for renal and diabetic patients, creating job growth for dietitians and nutritionists specializing in those diseases.

Hospitals will continue to employ a large number of dietitians and nutritionists to provide medical nutritional therapy and plan meals. But hospitals also will continue to contract with outside agencies for food service and move medical nutritional therapy to outpatient care facilities, slowing job growth in hospitals relative to food service, outpatient facilities, and other employers.
Employment
Dietitians and nutritionists held about 60,300 jobs in 2008. More than half of all jobs were in hospitals, nursing care facilities, outpatient care centers, or offices of physicians and other health practitioners. State and local government agencies provided additional jobs—mostly in correctional facilities, health departments, and other public-health-related areas. Some dietitians and nutritionists were employed in special food services, an industry made up of firms providing food services on contract to facilities such as colleges and universities, airlines, correctional facilities, and company cafeterias.

Other jobs were in public and private educational services, community care facilities for the elderly (which includes assisted-living facilities), individual and family services, home healthcare services, and the Federal Government—mostly in the U.S. Department of Veterans Affairs. Some dietitians were self-employed, working as consultants to facilities such as hospitals and nursing care facilities or providing dietary counseling to individuals.
Education and Qualifications

Becoming a dietitian or nutritionist usually requires at least a bachelor's degree in dietetics, foods and nutrition, food service systems management, or a related area. Graduate degrees also are available. College students in these majors take courses in foods, nutrition, institution management, chemistry, biochemistry, biology, microbiology, and physiology. Other suggested courses include business, mathematics, statistics, computer science, psychology, sociology, and economics. High school students interested in becoming a dietitian or nutritionist should take courses in biology, chemistry, mathematics, health, and communications.

As of 2008, there were 279 bachelor's degree programs and 18 master's degree programs approved by the American Dietetic Association's Commission on Accreditation for Dietetics Education.

Licensure. Of the 48 States and jurisdictions with laws governing dietetics, 35 require licensure, 12 require statutory certification, and 1 requires registration. Specific requirements vary by State. As a result, interested candidates should determine the requirements of the State in which they want to work before sitting for any exam.

In States that require licensure, only people who are licensed can work as dietitians and nutritionists. States that require statutory certification limit the use of occupational titles to people who meet certain requirements; individuals without certification can still practice as a dietitian or nutritionist but without using certain titles. Registration is the least restrictive form of State regulation of dietitians and nutritionists. Unregistered people are permitted to practice as a dietitian or nutritionist.
Earnings
Median annual wages of dietitians and nutritionists were $50,590 in May 2008. The middle 50 percent earned between $41,060 and $61,790. The lowest 10 percent earned less than $31,460, and the highest 10 percent earned more than $73,410. Median annual wages in the industries employing the largest numbers of dietitians and nutritionists in May 2008 were:
Outpatient care centers - $52,120
General medical and surgical hospitals - $51,390
Nursing care facilities - $51,110
Local government - $47,390
Special food services - $45,410

According to the American Dietetic Association, median annual wages for registered dietitians in 2007 varied by practice area as follows: $60,008 in consultation and business; $64,002 in food and nutrition management; $66,061 in education and research; $52,000 in clinical nutrition/ambulatory care; $53,997 in clinical nutrition/long-term care; $48,006 in community nutrition; and $48,984 in clinical nutrition/acute care. Salaries also vary by years in practice, education level, and geographic region.
---
Source Information:
U.S.Department of Labor
Occupational Outlook Handbook,2010-11 Edition
Dietitians and Nutritionist Careers & Jobs Resources
Nutritionist Salary and Career Resources
In most states, a license is required to practice as a nutritionist or dietitian. In 46 states, there are laws governing dietetics licensure, and 35 of those states require a license. Twelve other states require certification, and one requires registration, a lower level of qualification. The Commission on Dietetic Registration of the American Dietetic Association (ADA) awards the Registered Dietitian credential to those who pass a certification exam after completing their academic coursework and supervised experience.
Dietitians and Nutritionists Careers
Copyright ©2006-2020 For-Your-Dream-Career.com