Pharmacy Technician Jobs
Pharmacy as a Career


Pharmaceutical Cover Letter | Pharmaceutical Sales Marketing
Pharmacy Technician Jobs
Depending on the size of the pharmacy one is employed at, a pharmacy technician will always include dealing with customers to receive prescriptions and fulfill them accordingly. Detail, accuracy and client relation skills are key traits of pharmacy technicians.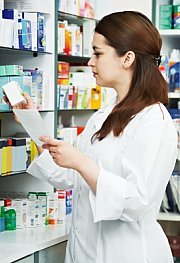 EMPLOYMENT
Pharmacy Technician Jobs - Pharmacy Technician and Aides held about 334,400 jobs in 2010. Employment of pharmacy technicians is expected to grow by 32 percent from 2010 to 2020, much faster than the average for all occupations. As a result of advances in pharmaceutical research, more prescription medications are being used to fight diseases. Also, the number of older people is growing, and older people use more prescription drugs than younger people.

NATURE OF THE WORK
Pharmacy technicians help licensed Pharmacists provide medication and other health care products to patients. Technicians usually perform routine tasks to help prepare prescribed medication, such as counting tablets and labeling bottles. They also perform administrative duties, such as answering phones, stocking shelves, and operating cash registers. Technicians refer any questions regarding prescriptions, drug information, or health matters to a pharmacist.
EDUCATION AND QUALIFICATIONS
Pharmacy Technicians Jobs - There are no standard training requirements for pharmacy technicians, but some States require a high school diploma or its equivalent. Although most pharmacy technicians receive informal on-the-job training, employers favor those who have completed formal training and certification. On-the-job training generally ranges between 3 and 12 months.

Formal technician education programs are available through a variety of organizations, including community colleges, vocational schools, hospitals, and the military. These programs range from 6 months to 2 years and include classroom and laboratory work. They cover a variety of subject areas, such as medical and pharmaceutical terminology, pharmaceutical calculations, pharmacy recordkeeping, pharmaceutical techniques, and pharmacy law and ethics. Technicians also are required to learn the names, actions, uses, and doses of the medications they work with. Many training programs include internships, in which students gain hands-on experience in actual pharmacies. After completion, students receive a diploma, a certificate, or an associate's degree, depending on the program.

In most States, pharmacy technicians must be registered with the State board of pharmacy. Eligibility requirements vary, but in some States applicants must possess a high school diploma or its equivalent and pay an application fee.

EARNINGS ON PHARMACY TECHNICIAN JOBS
The median annual wage of pharmacy technicians was $28,400 in May 2010. The median wage is the wage at which half the workers in an occupation earned more than that amount and half earned less. The lowest 10 percent earned less than $19,840, and the top 10 percent earned more than $40,710. Pharmacies may be open at all hours. Therefore, pharmacy technicians may have to work nights or weekends. Although most pharmacy technicians work full time, many work part time.
---
Source of Pharmacy Technician Jobs:
Occupational Outlook Handbook, 2010-11 Edition - www.bls.gov
Pharmacy Technician Jobs Related
Career & Jobs Information
MedcoHealth
Medco is the nation's leading pharmacy benefit manager, employing more than 20,000 people nationwide, including more than 2,400 pharmacists and more than 500 nurses. On behalf of health plan and employer clients throughout the country, Medco provide pharmaceutical care for millions of Americans. Medco offers an environment that encourages career growth, utilizes your training and education, and lets you improve the lives of patients in an unrivaled practice setting.
Health Career Web
Search Thousands of Health Care Jobs Find your next job in the Health Care Industry
michigan.gov
The healthcare industry in Michigan has grown tremendously and is vital to the economic stability of Michigan's communities. Healthcare is the single largest employment category in many of Michigan's communities, especially those in which a community hospital is located. The demand for health professionals will continue to increase dramatically as the use of technology accelerates and the population continues to live longer.
SnagaJob
Since 2000, we have made it our mission to help hourly workers find jobs they love—and help hourly employers find the best people for their jobs. Our passion has made us the number one hourly job site in the world. But it doesn't stop there. We continually develop innovative tools to help hourly workers and employers simplify their jobs and start living their dreams.
To The Top
From Pharmacy Technician Jobs to Ideas for Home Business
From Pharmacy Technician Jobs to For Your Dream Career Home
Copyright ©2006-2020 For-Your-Dream-Career.com