Pharmaceutical Cover Letter
For Pharmacist Career

Pharmaceutical Cover Letter Example for Pharmacist Career
Pharmacy Technician Careers | Sales Marketing Cover Letter | Pharmaceutical Sales Marketing

Pharmaceutical Cover Letter The Pharmaceutical industry is related to medication developing, producing and selling. Companies inside this sector may deal with brand or generic medication and medical devices. One of the many job placements in this business is Pharmacist. They are the white lab coat people working at drugstores. These people are required to dispense drugs that doctors prescribed to patients. The following Pharmaceutical Cover Letter plays up your strengths and it is a good example of how to talk to the company in this pharmaceutical field.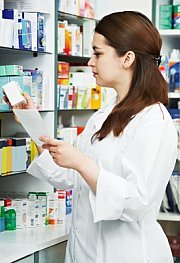 Shannon Alexander
Washington Avenue
Peoria,IL61111
(309)555-1111

Mark Johnson,
Sales Manager
Randall Pharmaceuticals
P.O.Box 1234
Peoria,IL 61111

Dear Mr.Johnson:
When I saw your ad I thought, "Hold all the resumes,
I'm the Pharmaceutical Sales Representative you're looking for!"

You want someone with sales experience. As a consultant for beauty supply houses I took over a territory with sagging sales and began calling on salons. The competition was fierce, but I kept calling, implementing promotional strategies, and providing first class service. Within just a short while I built a loyal clientèle and turned the territory around.

You want someone with a knowledge of pharmaceuticals and the medical industry. In addition to several years experience as a pharmaceutical technician, I have lived in Peoria for 13 years. I know area physicians and the local medical community very well. I even know when there's a new doctor in town!

You want a college degree, I have two: a bachelor's in education and an associate's in pharmacology. You want someone to work part time, and that's exactly what I'm looking for. And, I won't be looking for a position with more hours.

In addition to all of the above, I have a high level of energy and a personal commitment to providing the highest level of service. One supervisor, describing my ability to balance multiple assignments in a fast paced environment, dubbed me the "Energizer Bunny." I don't think I could be more suited to the position you advertised. When may we meet for a personal interview?

Sincerely,


Shannon Alexander

Enclosure
                                         Pharmaceutical Cover Letter
                           Cover Letter Examples for Jobs at All Levels
---
Pharmaceutical Cover Letter
Copyright ©2006-2023 For-Your-Dream-Career.com