Resume Writing Tips 2
25 Resume Writing Tips

---

Resume Writing Tips 2 | Resume Tips-1 | Resume Tips-3 | Resume Tips-4 | Resume Tips-5 | Resume Tips-6 | Resume Tips-7 | Resume Tips-8 | Resume Tips-9 | Resume Tips-10

Write the resume in the third person and avoid using the pronoun "I.". The five major sections of a resume are: 1.Heading, 2.Introduction, 3.Employment, 4.Education, and 5.Miscellaneous sections....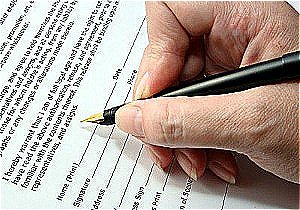 Resume Writing Tips 2

1. Absolutely no spelling, grammar, punctuation, or typographical errors.

2. Know your audience before you begin to prepare the document. Then write the resume for your defined audience.

3. The resume must match your skills and abilities to a potential employer's needs.

4. A resume must address your market value and , in 20 seconds or less, answer the question, "Why should I hire you?"

5. Key in on accomplishments, credentials, or qualifications.


6. Sell features and benefits. What skills do you possess and how will they contribute to the organization's goals and objectives?

7. Avoid fluff. Ambiguities and generalities represent fluff; they render a resume inept.

8. Be different, courageous,and exciting. Boring resumes lead to boring jobs.

9. Package the resume in an exciting way.

10. Be sure the resume is well organized.

11. The resume must be professionally presented, consistent with the industry you are pursuing.

12. Your resume can have a distinct personality to it. Choose your language carefully; it can make a world of difference.

13. chronological resume format emphasizes employment in reverse chronological order. Begin with your most recent job and work back, keying in on responsibilities and specific achievements. Use this format when you have a strong employment history.

14. A functional format hones in on specific accomplishments and highlights of qualifications at the beginning of the resume, but does not correlate these attributes to any specific employer. Use this format when you are changing careers, have employment gaps, or have challenges to employing the chronological format.

15. A combination format is part functional and part chronological and is a powerful presentation format. At the beginning of the resume you'll address your value,credentials,and qualifications(functional aspect),followed by supporting documentation in your employment section(chronological component).

16. A curriculum vitae is a resume format used mostly by professions and vocations in which a mere listing of credentials describes the value of a candidate. Examples include actors,singers or musicians,physicians, and possibly attorneys or CPAs.

17. The five major sections of a resume are: 1)Heading, 2)Introduction, 3)Employment, 4)Education, and 5)Miscellaneous sections.

18. Miscellaneous sections can include Military, Publications, Speaking Engagements, Memberships in Associations, Awards and Recognition,, Computer Skills, Patents, Languages, Licenses and Certification, or Interests.

19. Write the resume in the third person and avoid using the pronoun "I."

20. Salary history or compensation requirements should not appear in the resume. The cover letter is made for this purpose if it needs to be addressed at all.

21. Always include a cover letter with your resume.

22. If you are a graduating student or have been out of the workforce for a while, you must make a special effort at displaying high emotion, potential, motivation, and energy. Stress qualitative factors and leadership roles in the community, on campus, or elsewhere. By employing a degree of creativity and innovation in your career design campaign, you are communicating to a hiring authority that you can be resourceful, innovative, and a contributing team member.

23. Employment gaps, job-hopping, and educational deficiencies can be effectively handled by using the combination format(or functional format).

24. The resume should be a positive document. It must tell the truth, but not necessarily the whole truth. Don't lie,but you need not tell all, either. Keep negative thoughts and concepts out of your resume.

25. The shouter the better-one to two pages in most cases.
---
The Article Resume Tip is written by authors
Jay A.Block & Michael Betrus
at
101 BEST RESUMES
Resume Writing Tips 2
Copyright ©2006-2023 For-Your-Dream-Career.com