Resume Tips 4
Getting Personal on Your Resume

---
Resume Tips 4 | Resume Tips-1 | Resume Tips-2 | Resume Tips-3 | Resume Tips-5 | Resume Tips-6 | Resume Tips-7 | Resume Tips-8 | Resume Tips-9 | Resume Tips-10

Resume Tips 4
By Kim Isaacs, Monster Resume Expert. To carefully consider what information they include in resumes. "When you post your resume online, you're sharing it with more than just one employer -- you are sharing it with the world. Does your resume include information that puts you at risk for junk mail, spam, scams or identity theft? Follow these tips from security experts to protect your privacy while allowing the right people to find you.
Determine Your Risk Tolerance
           Resume Tips 4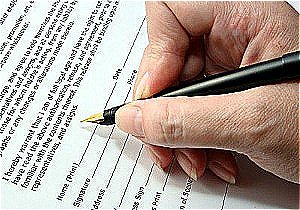 Scott Germaise, author of Privacy Tactics: Protect Your Personal Information Assets and VP of product and project management at identity management and security firm StandardID, advises job seekers to trust their instincts and assess their risk tolerance. "Some people couldn't care less about having a great deal of their personal information publicly available, while others feel that any disclosure
beyond the basics is too much," he says.

Jay Foley, executive director of the nonprofit Identity Theft Resource Center, also cautions job seekers to carefully consider what information they include in resumes. "When you post your resume online, you're sharing it with more than just one employer -- you are sharing it with the world," he says. Resume Tips 4
   Find Balance Between
Discretion and Disclosure
Job hunting requires releasing certain information to potential employers. At the same time, job seekers can be selective about the information they share. "You will have to accept that when you put certain information out into the world, you lose some degree of control over it and how it may be used," Germaise says. "The key is to find the right balance between privacy and desired disclosure.... It's good to be prudent but not paranoid."
According to Foley, posting contact information like phone numbers and street and email addresses doesn't necessarily pose a high risk for identity theft but can make you vulnerable to scams. "Job seekers may be contacted by a representative falsely claiming to be a staff member for a Fortune 500 company," he says. "They say they need to do a background check and take all kinds of information about you -- and then get 32 credit cards in your name."
Germaise agrees job seekers can easily be targeted for phone and email scams by posting contact information on resumes. "Such scams are relatively inexpensive, which contributes to their common occurrence," he says. Resume Tips 4
Information Protection
          Strategies
So how do you protect yourself? Follow these tips:
Activate Monster's Confidentiality Feature: You can hide your name, street and email addresses, phone number and the name of your current or most recent employer. If you upload a Word document or copy-and-paste a plain-text resume, be sure to manually remove identifying information.
Resume Tips 4
Be Selective When Providing Contact Information: Foley recommends listing a post office box instead of your street address. Alternatively, you can include just your city and state, revealing your full address on request.

Be careful with email addresses, too. "Use a disposable email address for your job search," advises Germaise. To protect phone numbers, consider getting an unlisted number, or use a voice-mail service. Many services offer a free phone number and deliver messages via email, but you will likely have to pay for a local number.




Don't Provide Too Much Personal Information: "This may seem obvious, but do not post Social Security numbers, references or any other detailed personal information," says Germaise.

Foley strongly advises against including a Social Security number or birth date on a resume -- both can be used to steal your identity. If you're concerned about your employer discovering your job search, omit your company's name, replacing with a general description.

Be Google-Ready: The vast amount of information available online can be a virtual playground for scammers -- or potential employers checking you out. "Make sure any nonwork-related online profiles of yours do not contain your full name," Germaise suggests. "That is, if your MySpace or other personal Web sites show a decidedly nonprofessional side of your life, make sure they're not going to come up in a Web search for your name."
Search Smart 
Job seekers should ensure job or interview inquiries are valid. "If you are contacted by an employer, conduct research, and find out if the employer and representative are legitimate," advises Foley. "Check out every offer or hint of an offer through the phone and Internet, and check the employer's reputation with the Better Business Bureau."
40 Best Resume Tips 2022
---
Resume Tips 4 - Getting Personal on Your Resume
Back to Top
Back from Resume Tips 4 to For Your Dream Career
Copyright ©2006-2023 For-Your-Dream-Career.com