Resume Tips 8
Resume Tips for Job Fair Success

---
Resume Tips 8 | Resume Tips-1 | Resume Tips-2 | Resume Tips-3 | Resume Tips-4 | Resume Tips-5 | Resume Tips-6 | Resume Tips-7 | Resume Tips-9 | Resume Tips-10

Resume Tips 8 for Job Fair Success By Kim Isaacs Monster Resume Expert
Whether you're a recent graduate seeking your first position or an experienced professional in search of a new opportunity, attending job fairs is one way to network and find job leads. Job fairs allow you to meet hiring managers from various companies and industries -- all housed under one roof for the day. These tips will help you make the best impression. Kim launched Advanced Career Systems in 1995 with the vision of bringing top-quality resume services and customer support to job seekers at all levels. Since that time, the company has become one of the most respected high-end resume writing companies in the U.S. Kim is a Certified Professional Resume Writer (CPRW) and a Nationally Certified Resume Writer (NCRW), and she serves on the advisory committee for the NCRW credential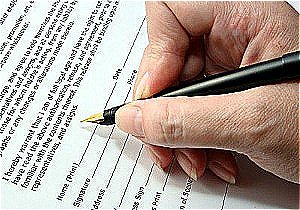 Do Your Research
Before Attending Job Fair
"When meeting candidates at job fairs, I like to see that they've done their research," says Louis Dennis, a human resources representative for State Farm Insurance Companies in Greeley, Colorado, who regularly recruits employees by attending job fairs. "Folks who can sit down with me already knowing something about the company and the types of jobs they're interested in are very impressive to me."

It's usually possible to obtain a list of employers participating in a job fair ahead of time. The best-prepared candidates will have already spent time researching corporate cultures and searching job listings on Monster and other sites. "If someone can say to me, 'I'm interested in underwriting or claims' and can back up why they're a good fit, I'm immediately going to be impressed," Dennis says. Resume Tips 8
Develop Multiple Versions 
       Of Your Resume
After you've done your homework, tailor your resume based on your job objective, and consider bringing multiple versions to the career fair, says Christina MacGill, associate director of career programming for career services at Pennsylvania State. "Once candidates have done their research on participating companies, they can create a few different resumes targeting these," MacGill advises. "For example, someone interested in finance can research typical job titles and types of responsibilities and then create several different versions accordingly. They also might create one resume targeted to working for banks and another one tailored to working for the finance division of a large firm like GE." You should also prepare a general resume without a specific objective. "That way, candidates can be prepared for any situation at a job fair by keeping their options open and having multiple resume versions ready to go," MacGill says. Resume Tips 8
Cut Through the Clutter
Having a concise resume to hand out at job fairs is crucial. "When I'm at a job fair, where the line can get eight-to-10 deep of people waiting to talk to you, I cringe when I see a resume that's more than a page and a half long," Dennis says. "If the resume is cluttered and not easy to read, this is a problem," says MacGill, who coordinates career fairs at Penn State. "Employers get so many resumes at career fairs, and you've got to make sure your resume is easy on the eye, with the main information easy to pick up and quickly scan." Resume Tips 8
Bring Supporting Documents
Additional documents that could help support your qualifications will depend on your industry and career goals, but they may include a cover letter, professional portfolio, transcripts (usually for new graduates), reference list, letters of recommendation and job applications. Use the information uncovered during your research to guide your cover letter development. You may have found names of HR managers, position openings and job requirements that will help you customize your letters. If you don't have this information, write a cover letter to go along with each resume version. The letter should provide an overview of your qualifications that meet the goal the resume specifies. At the same time, supporting documents aren't as important as your resume, and some hiring managers won't be interested in dealing with the extra paperwork. Dennis says cover letters aren't necessary at a job fair.
Follow Up - Resume Tips 8
Request a business card from each hiring manager, and jot down a few notes immediately after each conversation -- this will help refresh your memory when you follow up. Email or mail a thank-you note within 24 hours of the job fair. "When I've met someone promising, I'm looking for them to follow up," says Dennis. "If they do, that's a sign of serious interest." "We also recommend that after you meet with someone and learn more about specific positions, alter the resume and send an updated, customized version to the person you spoke with right away," MacGill says.
---
Resume Tips 8 - Resume Tips for Job Fair Success
Back to Top
Back to For Your Dream Career Home
Copyright ©2006-2023 For-Your-Dream-Career.com