Typical Interview Questions
Preparing Interview Questions and Answers


Typical Interview Questions | Recruiter | 25 Interviewing Techniques | Hiring Proposal

Preparing for Typical Interview Questions. These are behavior-based interview(BBI) questions. If BBI is new to you, don't panic. It was designed to reduce hiring errors by focusing on a job-hunter's past.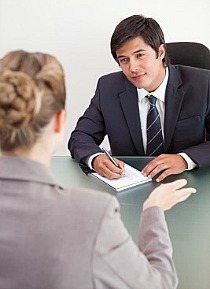 The interview isn't just about your stories. Beyond the purely technical questions specific to each job, I have listed the typical questions interviewers ask. These are behavior-based interview (BBI)questions If BBI is new to you, don't panic. It was designed to reduce hiring errors by focusing on a job-hunter's past experience and behaviors instead of relying on an interviewer's gut level decision-making ability. BBI questions actually focus on the core components of your accomplishments.

If you have experience with traditional interviewing techniques, you'll find the BBI different in several ways:
The interview will be structured to concentrate on areas that are important to the interviewer, instead of allowing you to concentrate on areas that you think are important. (The T-account exercise and a thorough understanding of the job description will give you all the clues you need.)
Rather than asking how you would behave in a particular situation, the interviewer will ask you to describe how you did behave in a similar situation.
The interviewer will drill you for details. You'll have no time to speculate.(Now you know why we've spent so much time detailing your accomplishments.
Typical Interview Questions
---

If you prepare reasonable answers to the following questions, you'll be well on your way to acing your interview, no matter who is conducting it.

Strengths
What key factors have accounted for your career success to date?
What do you consider to be some of your most outstanding qualities?
What is your greatest strength or asset?
In what areas have others been particularly complimentary about your abilities? Why?
During past performance reviews, what have been consistently cited as your major assets? Why?
From a performance standpoint, what do you consider your major attributes?

Weaknesses
What aspects of your current position could be better performed, and what kind of improvement could you make?
If we asked two or three of your peers who know you well, to be somewhat critical of your performance, what two or three improvement areas would they likely identify? Why?
If you could, what two things would you most like to change about yourself to improve your overall effectiveness-and why?
Typical Interview Questions
---

Job Performance
What have been your last three performance evaluation ratings? Why?
In what areas does your performance excel?
Why, in your judgment, are certain businesses successful?
In your judgment, what factors account for most business failures?

Personal Style
What kind of operating style do you feel is not conductive to good performance? Why?
What basic values and beliefs do you feel are important to good performance?
How would you categorize the traits and attributes of a good manager? Why are these important?

Management Skills
What are some of the techniques you use to motivate poor performers?
Give me some examples of how you have used these techniques.
What results did you get?
How could these have been improved?
What is the toughest decision you have had to make as a manager?
Why was it tough?
What did you decide?
What were the results?
Typical Interview Questions
---

Communication Skills
Give me an example of a complex communications problem that you faced.
What made it complex?
Why was it difficult to communicate?
How did you solve this problem? Why?
How effective were the communications?
What evidence do you have of this effectiveness?
How might you have further improved the communications?

Integrity
If you caught one of your most valued employees doing something dishonest, what would you do?

Assertiveness
If your boss told you that you had a "stupid idea," but you knew it was a very good one, what would you do?

Risk
What factors most influence your willingness to take a risk?

Analytical Skills
What is, perhaps, the most complex business analysis you have had to make?
What factors made it complex?
How did you tackle this task?
How did your result reflect the effectiveness of your analytical abilities?

Perseverance
Describe a work situation where you knew you were right, but the odds of winning were such that you felt you had to abandon your position?
What odds did you face?
How great was the resistance?
What approaches did you use?
How long did you fight?
What factors persuaded you to abandon your position?

How did you do? I can't overemphasize the need to practice you answers to these questions enough. If you can, you should rehearse with a nonjudgmental friend. If you don't have any friends, rehearse in front of a mirror with a tape recorder. (Make a mental note to acquire some friends in the future.)

Ask and answer the questions one-by-one, and when you're finished, listen to the tape. Do you sound confident? Are your answers complete? Would you hire you? Lastly, did you notice your facial expressions? Did you look happy, relaxed, and natural; or did you look like someone who needed to pass gas? Practice, practice, practice - until you feel confident and look terrific! Typical Interview Questions
Typical Interview Questions
---
Typical Interview Questions Source: Jay Conrad Levinson is the author or coauthor of the more than 32 books in the biggest series of books on Marketing in history. His ideas have influenced marketing so much that today his books appear in 37 languages and are required reading in many MBA programs worldwide.

Jay taught guerrilla marketing for 10 years at the extension division of the University of California in Berkeley. He was a practitioner of it in the United States-as senior vice-president at J.Walter Thompson, and in Europe, as creative director at Leo Burnett Advertising.

David Perry is managing director of Perry-Martel International, one of North America's top executive search, recruiting, and placement firms. He is frequently quoted on trends and issues regarding executive search, recruiting, and HR in leading business publications including the Wall street Journal, IT World, EETtimes, NetWork World, HR Today. He has appeared as an executive search and labor market analyst for CBC News World and Report on Business TV - Typical Interview Questions
---
                     Typical Interview Questions Related Resources
Behavior-Based Interviewing
The term "behavior-based interview questions" is new to many students. If you want to have a successful job or internship interview, you need to understand what these questions are, then be prepared to answer them.
100 Potential Interview Questions
While there are as many different possible interview questions as there are interviewers, it always helps to be ready for anything. Here is a list of 100 potential interview questions.
Best Job Interview Questions
Prepare for typical interview questions. Be careful that the dislikes you talk about do not refer to specific characteristics of the job opportunity you are interviewing for. Stay away from reasons such as overtime and salary. Avoid criticism of your boss, management or co-workers. Be general and refer to the lack of or absence of what you seek in a job or work environment.
Back to top
Back From Typical Interview Questions to For Your Dream Career
Copyright ©2006-2023 For-Your-Dream-Career.com