Top Ten US Imports from China


US Exports to China | Import from China | Import Export Home Business

US Imports from China
China is the second largest source of U.S. imports of merchandise after Canada. $102.3 billion in year of 2001, $243 billion in year of 2005, and $399.3 billion in year of 2011. China is not just a source of imports, it is also a large and growing market for US exports, according to The US-China Business Council, Inc. (USCBC)
U.S. China Trade Facts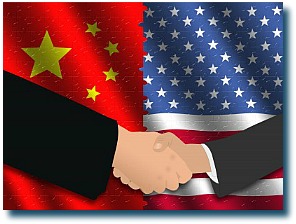 U.S. goods and services trade with China totaled $539 billion in 2011. Exports totaled $129 billion; Imports totaled $411 billion. The U.S. goods and services trade deficit with China was $282 billion in 2011. China is currently our 2nd largest goods trading partner with $503 billion in total (imports and exports) goods trade during 2011. Goods exports totaled $104 billion; Goods imports totaled $399 billion. The U.S. goods trade deficit with China was $295 billion in 2011.

Trade in services with China (exports and imports) totaled $36 billion in 2011 (preliminary data). Services exports were $25 billion; Services imports were $11 billion. The U.S. services trade surplus with China was $13 billion in 2011. U.S. goods imports from China totaled $399.3 billion in 2011, a 9.4 % increase ($34.4 billion) from 2010, and up 299% since 2000. It is up 290% since 2001. U.S. imports from China accounted for 18.1% of overall U.S. imports in 2010.

The five largest import categories in 2011 were: Electrical Machinery ($98.7 billion), Machinery ($94.9 billion), Toys and Sports Equipment ($22.6 billion), Furniture and Bedding ($20.5 billion), and Footwear ($16.7 billion). U.S. imports of agricultural products from China totaled $4.0 billion in 2011, the 5th largest supplier of Ag imports. Leading categories include: processed fruit and vegetables ($949 million), fruit and vegetable juices ($559 million), snack foods (including chocolate) ($203 million), and spices ($123 million). (Source from: Office of The United States Trade Representative)

By 2011, China was still one of the top trading partners of US importation. Table below is updated by United States Census in 2012.
Top 10 U.S. Trading Partners 2011
| Top 10 US Trading Partners 2011 | Imports |
| --- | --- |
| China | 399.3 |
| Canada | 316.5 |
| Mexico | 263.1 |
| Japan | 128.8 |
| Germany | 98.4 |
| Korea, South | 56.6 |
| United Kingdom | 51.2 |
| Saudi Arabia | 47.5 |
| Venezuela | 43.3 |
| Taiwan | 41.3 |
Top 10 U.S. Imports from China 2011
| Top 10 US Imports from China 2011 | Unit:$ billion |
| --- | --- |
| Electrical Machinery and Equipment | 98.7 |
| Power Generation Equipment | 94.9 |
| Toys, Games, and Sports Equipment | 22.6 |
| Furniture | 20.5 |
| Footwear and Parts Thereof | 16.7 |
| Apparel, Knitted or Crocheted | 15.1 |
| Apparel, not knitted or Crocheted | 15 |
| Plastics and Articles Thereof | 10.9 |
| Iron, Steel | 8.6 |
| Vehicles, Excluding Rail | 8.1 |
Source: The US-China Business Council, Inc. (USCBC)
Office of The United States Trade Representative
---
Import Export Business Related Information
Copyright ©2006-2020 For-Your-Dream-Career.com