Eccentric Approaches
Guerrilla Job-seeking Ideas


Eccentric Approaches - When it comes to guerrilla job-seeking ideas as they map to research, the following list of completely free ideas made my final cut. These approaches range from normal to almost normal to just plain "out there" - but if you're in the guerrilla mind-set, I'm inclined to believe that you're going to be drawn to the more Eccentric Approaches:
When Money Starts Pouring
     In From These Deals     
        The Hires Follow
    Eccentric Approaches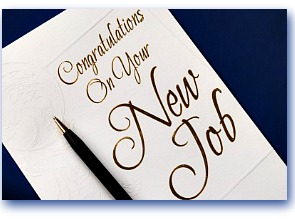 Follow Demand: Demand for new hires doesn't begin with the company; hiring demand begins with the customers of the company. Plain language: When people start buying more of it (whatever "it" is), companies have to make it, deliver it, or support it. By following local newspapers and trade publications, you'll be able to keep an eye on major customer announcements, such as huge outsourcing deals or sales of products. Why? When money starts pouring in from these deals, the hires follow. Get there when the news hits the wires and use the approaches described earlier to track down key leaders...and then pick up the phone or write a letter congratulating them on the deal and pondering how they'll handle the increase in revenue.

Keep Tabs on Touch Labor: In the parlance of manufacturing, these are the folks who actually "touch" the product(assemble, package, etc.). For purposes of this text, I'm referring to any of the people who do the actual execution work-customer service reps, packaging personnel, junior consultants in the services industry, and so on. When hiring really picks up at the execution and labor level versus the executive level, you can be sure that managerial and other opportunities will follow. Be sure to understand the difference between replacement hires versus actual growth(discrete quantity vs. volume). One way to keep tabs on this is to comb through the major job board sites like "customer service representative" (customer service is a particularly good one because hiring such reps is often done using metrics, e.g., one rep for X customers). The more specific your functional expertise, the more you'll need to refine you list of touch labor jobs to winnow down the list.

Follow the Leasing Signs: When you drive by major office parks in your area and see the "For Lease" signs start to come down, you can rest assured that some company is taking over the space. Perhaps it's a new firm, a new regional office, or an on-site expansion. typical corporations allocate from 60 to 150 square feet per employee; you can follow leasing activity online in local business registries. One major publisher or such information is American City Business Journals, publishers of city-specific business journals in over 30 American cities. Find the resource online that maps most closely to your needs and set up the alerts. Get in there before the space is filled! - Eccentric Approaches

Avoid False Indicators Like the Plague: Old school logic held that hiring in Human Resources meant hiring all around. This is wrong. Typically, when a start-up gets to headcount of 50 to 70 persons, HR is brought in to clean up processes, manage compliance, and administer benefits and compensation. The same is true for the hiring of recruiters, which is often done to reduce spending on outside agencies or to manage internally automated processes. Neither category of hiring correlates directly with increased hiring demand. Typically, firms begin by seeking internal referrals and networking locally before turning over openings to agencies. Make direct contact.

An Unusual Approach - the Drive-By: Okay, this isn't really Internet at all, but I wanted to throw it in here because it is seriously guerrilla. Check out a company that you're interested in and drive by the offices on any one or two random weekday mornings around 8 or 9 A.M. Count the cars. Return around 6 or 7 P.M.any day and count the cars again. If a lot of people are still there, then perhaps they're being stretched thin and lacking in personnel. Imagine the hiring manager's response to a letter with an opener like, "I couldn't help but notice that your parking lot was still full at 9 A.M. last Thursday. You must be busier than any other company around here, and I welcome the opportunity to help you fill those spaces" (or something to that effect) - Eccentric Approaches

Author of Eccentric Approaches: David Carpe Dave is the Director of Talent Intelligence at SignalFire, a VC fund based out of San Francisco. He's also the creator of TheG2.com, a soon-to-launch course focused on human capital research. Prior to SignalFire, Dave was a Partner at ReedShay, and earlier spent over a decade consulting to Microsoft, mostly in the Office of the CTO. In the CI field, he's most well known as the founder of Clew, a firm focused on primary research and elicitation. He's been speaking about CI at conferences for ages, and was a long-time corner columnist for CI Magazine from SCIP.org. Eccentric Approaches
Copyright ©2006-2023 For-Your-Dream-Career.com