Food Jobs
By Irena Chalmers


Food Jobs By Irena Chalmers
Do you want to turn your passion for food into a career? Take a bite out of the food world with help from the experts in this first-of-its-kind for food-related careers. Example List of 150 Food Jobs Table of Contents Excerpt of the book. Irena Chalmers has worn many hats in the food industry. The publisher, producer, and packager of more than forty books, she has regularly contributed to such publications as The New York Times, Food & Wine, Gastronomica, Food Arts, and Nation's Restaurant News. She is a founding member and past president of both the International Association of Culinary Professionals and Les Dames d'Escoffier International, as well as ""Who's Who"" member of the James Beard Foundation.
Food Jobs By Irena Chalmers
Food Jobs
By Irena Chalmers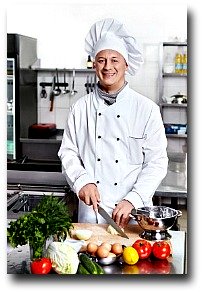 Maybe you're considering culinary arts school, maybe you're about to graduate, or maybe you're looking for an exciting career change. How can you translate your zest for flavor into a satisfying profession? Should you become a chef or open a specialty foods shop, write cookbooks or try your hand at food styling? Culinary careers are as varied as they are fascinating-the only challenge is deciding which one is right for you. Filled with advice from food-world pros including luminaries such as Alice Waters, Chris Kimball, Betty Fussell and Darra Goldstein FOOD JOBS will set you behind the stove of your dream career. Food Jobs By Irena Chalmers

In this tasty, nourishing book, food industry guru Irena Chalmers offers profiles of food jobs by the dozen-everything from the traditional (maitre d', caterer, dietician) to the behind-the-scenes (restaurant consultant, kitchen designer, hotel promoter) to the can-I-really-get-paid-for-that? (yacht chef, tea taster, fortune cookie message writer). Chalmers provides essential information for getting started and succeeding in your chosen culinary role including job descriptions, candid musings on what the job really entails and who it's really for, and quotesfrom the best in the field (Bobby Flay, Todd English, Gordon Hamersly, Francois Payard, Danny Meyer, Anthony Bourdain and more).

The book also presents an array of resources on where to find more information to put you ahead of the competition. Bursting with real-life wisdom from those who've been there, FOOD JOBS will introduce you to the myriad of different food jobs available and guide you to the one that's right for you.

Product Details
ISBN: 978-0-8233-0592-4
Format: Paperback
Pages: 400
Publisher: Beaufort Books
Table of Contents

Chapter One – Restaurants and Food Service:
Surveys the roles of the brigade working in the kitchen and dining room, by including:
Profiles and quotes from more than 30 famous restaurateurs and chefs including Danny Meyer, Thomas Keller and Jean-Georges Vongerichten.
Descriptions of career opportunities in catering, country clubs, luxury yachts, corporate dining rooms, retirement homes, health spas, schools and universities, hospitals, company cafeterias, sports stadiums, the military and dozens of other venues in the hospitality field
Many helpful web sites and recommended books

Chapter Two – Retail Jobs:
Profiles of Stonewall Kitchen and a small bakery
A surprising number of opportunities for chefs and food professionals in large supermarkets such as Wegmans and Whole Foods Market
Advice for operating food by mail businesses and
Profiles of D'Artganan and Aidell's sausage company

Chapter Three – Art and Design:
Describes career opportunities and advice to those getting started as:
A food photographer, food stylist and prop stylist, tabletop buyer, menu designer, restaurant and kitchen designer
Profile of Milton Glaser (I ♥ New York) graphic designer who also created the prototype design for the modern supermarket
Profile of Darra Goldstein, author, scholar, food exhibit curator and founding editor of Gastronomica: The Journal of Food and Culture

Chapter Four – Publishing, Television the Internet, Radio
and All Things Media:
Covers information about embarking on a career as:
A food writer, literary agent, editor, cookbook author, newspaper journalist, restaurant critic, recipe tester, travel writer and reporter for trade and consumer magazines
Profile of Nach Waxman, owner of Kitchen Arts & Letters
Essay by Chris Kimball, founder of Cook's Illustrated and TV and radio food commentator
Essay by Betty Fussell, author of The Story of Corn and Raising Steaks: The Life and Times of American Beef and memoirist, My Kitchen Wars
Essay by Barbara Haber, author and former curator of books, Radcliffe Institute's Schlesinger Library at Harvard University

Chapter Five – Promotion and Publicity:
Food advertising, food public relations, restaurant marketing
Becoming a product spokesperson (think of George Foreman: 250 million grills sold)
Many interesting opportunities for employment

Chapter Six – History and Culture:
A food historian and a folklorist
An anthropologist or an ethicist
A trend tracker or futurist
A culinary tour guide in interesting locations

Chapter Seven – Science and Technology:
Issues related to food safety to new product development
Descriptions of the work of dieticians and nutritionists
Information about new technologies in food processing

Chapter Eight – Farming:
How to get started as an organic farmer
How to obtain a license to sell produce at a farmer's market
How to become a bee keeper, fish farmer, mushroom and other specialty crop grower
How to become a wild game rancher and job prospects for a cowboy
How to farm hydroponically
How to establish an edible school yard in the community

Chapter Nine – Cooking Schools and Culinary Education:
Addresses:
Is it necessary to attend a professional cooking school? (The maddening answer is both Yes and No!)
How to find the right cooking school and guidance about evaluating the curriculum
Tuition fees, student loans and applying for a scholarship
Details about many of the nation's leading schools
Food Jobs By Irena Chalmers
About the Author

Irena Chalmers has worn many hats in the food industry. The author, publisher, producer, and packager of more than forty books, she has regularly contributed to publications such as The New York Times, Food & Wine, Gastronomica, Food Arts, and Nation's Restaurant News. She is a founding member and past president of both the International Association of Culinary Professionals and Les Dames d'Escoffier International, as well as "Who's "Who" member of James Beard Foundation. Chalmers currently divides her time as a faculty member at The Culinary Institute of America, "The Last Word" columnist for Chef magazine, consultant, food blogger and commentator, and counselor to many about to embark on their own culinary adventures.
Back to Top of Food Jobs by Irena Chalmers
Back from Jobs by Irena Chalmers to Book Reviews of For Your Dream Career
Food Jobs by Irena Chalmers
Copyright ©2006-2023 For-Your-Dream-Career.com