Hotels Industry For Your
Hospitality Careers

Hotels Industry
What are the latest trends in the hospitality industry? It goes without saying that the pandemic and ensuing economic downturn greater than the 2008 recession and chaos caused by fluctuation in demand have had a significant impact on hospitality throughout 2020 and 2021 - no doubt with lingering effects. Some innovative responses to this extraordinary situation like attempting to entice patrons back into food and beverage outlets and assure holidaygoers that it is indeed safe to enjoy a hotel stay, have accelerated existing hospitality industry trends and triggered lasting change.  Source From EHL Insights
Hotels Industry Outlook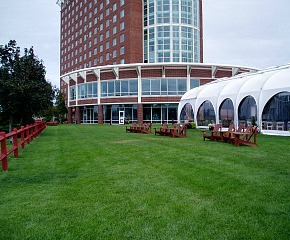 The December Bureau of Labor Statistics jobs report showed continued signs of an uneven recovery as we round out 2021. Employers added a mere 199,000 new jobs in December — less than half what experts predicted. Businesses in the leisure and hospitality space led the growth this month, with 53,000 gains.

Bureau of Labor Statistics also reported: Total nonfarm payroll employment rose by 431,000 in March 2022, as job gains continued in leisure and hospitality, professional and business services, retail trade, and manufacturing. Overall, job growth averaged 562,000 per month in the first quarter of 2022, the same as the average monthly gain for 2021.
Hotels Industry
Employment
Employment up 431,000 in March 2022. A new report from the American Hotel & Lodging Association(AHLA) finds U.S. hotels lost nearly $112 billion in room revenue during 2020 and 2021, as the pandemic curbed business and leisure travel. And although COVID-19 restrictions like mask mandates are being eased in many places, the recovery is not expected to be smooth.
Professional and business services added 102,000 jobs in March. Within this industry, job gains occurred in services to buildings and dwellings, accounting and bookkeeping services, and management and technical consulting services. Employment in professional and business services is 723,000 higher than in February 2020.
Job Prospects
In addition to job growth, job opportunities for hotel and motel desk clerks are expected to be good because of the need to replace the many clerks who either transfer to other occupations that offer better pay and advancement opportunities or who leave the workforce altogether. Opportunities for those willing to work a variable schedule should continue to be plentiful.- Hotels Industry
---
Hotels Industry Information Source:
bls.gov
Hotel Jobs Sources
www.bls.gov The Bureau of Labor Statistics (BLS) is the principal fact-finding agency for the Federal Government in the broad field of labor economics and statistics. The BLS is an independent national statistical agency that collects, processes, analyzes, and disseminates essential statistical data to the American public, the U.S. Congress, other Federal agencies, State and local governments, business, and labor. The BLS also serves as a statistical resource to the Department of Labor.

FRED Short for Federal Reserve Economic Data, FRED is an online database consisting of hundreds of thousands of economic data time series from scores of national, international, public, and private sources. FRED, created and maintained by the Research Department at the Federal Reserve Bank of St. Louis, goes far beyond simply providing data: It combines data with a powerful mix of tools that help the user understand, interact with, display, and disseminate the data. In essence, FRED helps users tell their data stories. The purpose of this article is to guide the potential (or current) FRED user through the various aspects and tools of the database.

About the Leisure and Hospitality supersectorThis section provides information relating to employment and unemployment in leisure and hospitality. While most data are obtained from employer or establishment surveys, information on industry unemployment comes from a national survey of households. The following tables present an overview of the industry including the number of jobs, the unemployment rate of those previously employed in the industry, job openings and labor turnover, union membership and representation, gross job gains and losses, and projections of occupational employment change.
Hotel Jobs in Hospitality Industry
Back to top of Hotel Jobs
Back to For Your Dream Career
Copyright ©2006-2023 For-Your-Dream-Career.com