Top 5 Resume Mistakes


Top 5 Resume Mistakes
You only have 7 SECONDS to capture the attention of the decision-maker. Based on a Harvard Business Review, September article, you need to get to the point quickly. With over 50 million people filing for unemployment over the previous 20+ weeks, it has never been more competitive. You must avoid mistakes on your resume, which will help you make it through the first cut and avoid the "circular file" (trash can) -
BY Michael B. Clegg    
As the old adage goes, you never have a second chance to make a first impression during most job searches begins with your resume. So don't make the five common CV mistakes that Brad Karsh, founder of jobBound.com and author of "How to Say It on Your Resume" has found.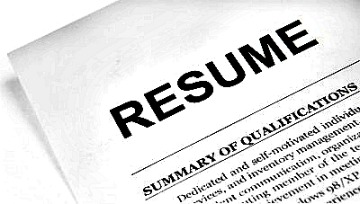 1. Too Task Heavy
This is what I call the "so what" section. This is where most resumes have the "task" or "duties" performed listed. However, it is where you tell your story of the above "results". These results are often delivered in the form of numbers and percentages. These items direct the attention of the reader quickly. The accomplishment that you are most proud of should be the first bullet point.
2. Laking Accomplishments
Your resume should be about the value that you are going to bring to your future employer. Tasks imply the duties of your previous role.  Employers want to know the results.  Let the interview be about "how" you did it.  Your resume should be "what" you did. Give them real numbers. For example, if you managed people, don't just say that you did that. Say you managed 500 people. If you worked on planes, tell them how many planes you worked on.
Top 5 Resume Mistakes
3. One Size Fits All
This is the question that I get most frequently "Should I have multiple versions of my resume?" The answer is YES. You should have a resume for every job that you apply for and it should be tailored with keywords per the job description. 
Let's say, for example, you are a registered nurse with management experience and you are currently pursuing an MBA. If you are applying for a nurse position, you will focus on the details of the types of procedures you know how to do with patients, and the different types of medical conditions you are familiar with. You might not include information about your MBA at all, and you would want to play down the fact that you created a wound care program at your hospital from scratch. In contrast, if you want to be a manager, you will highlight your managerial, organization and training skills, and downplay your ability to put in an IV.
4. Outdated Information 
A professional resume should go no further than 10-15 years back.  Anything beyond that is irrelevant or out of date.  I know it's great that you finished in the top 10% 25 years ago but what have you done for me lately? There are other ways to capture this data that is less traditional. There are a few areas, specifically academia, where they may want to see every year of experience. 
Top 5 Resume Mistakes
5. Ignore Application Instructions
Some applications will require a call to action. It could be something simple that says, "please submit a cover letter". If you don't follow their instruction, you will automatically be disqualified.  For instance, your job posting requests a "one-page cover letter," what they want from you is a one-page cover letter. So it's a bad idea to send them this:
"I apologize in advance. I simply could not reduce the length of my cover letter to one page."
If you doing so, you are definitely OUT!
---
Top 5 Resume Mistakes
Copyright ©2006-2023 For-Your-Dream-Career.com