What Entry Level Employers Want Most
Getting a Foot in the Door


What Entry Level Employers Want Most - To fuel their growth in today's competitive market companies are increasingly seeking the fresh perspectives of recent college graduates and other entry-level
What makes a job 'entry-level'?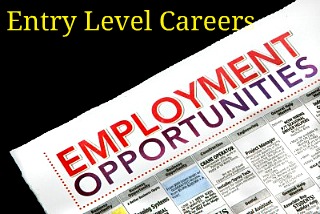 What Entry Level
Employers Want Most

To fuel their growth in today's competitive market companies are increasingly seeking the fresh perspectives of recent college graduates and other entry-level employees. What are these entry-level employers looking for in candidates? How do you make them look your way?
Recent College "Supergrads"
Called "the Supergrads" by some, the opportunities for college graduates just entering the workforce are many. This is because the students born in the 1980s and 90s-also called the millennial generation-come to work just as the baby boomers are starting to retire. This means the professional ranks in many organizations are ripe for replenishing. In fact, twenty-two percent of U.S. companies intend to hire more new grads this year than they did in 2007, according to research by Chicago outplacement firm Challenger Gray & Christmas.

The millennials these entry-level employers will hire are tech-saavy having been raised on the Internet and are naturally team players, reports Washington Post Magazine. Yet, they are also used to competing after facing stiff competition to get into college. They are well traveled and worldly; many have had studied or worked abroad starting in high school. But the job's not in the bag yet. What Entry Level Employers Want

Employers are looking closely at this new crop of workers. A collegegrad.com survey reported on what employers want most in examining the talent pool of recent grads. It featured 500 top entry-level employers for 2008 and notes the following factors as the criteria that entry-level employers rank as most important:
The student's major (44%)
Their interviewing skills (18%)
The student's internship/experience (17%)
The college the student graduated from (10%)
Other miscellaneous qualifications (5%)
The student's GPA (4%)
Their personal appearance (1%)
The student's computer skills (1%)
Didn't Go To MIT or Harvard?
Not a problem. According to the survey, factors other than the school you graduated from all count more in employers' eyes. Regarding that number one factor on the list, your major, which ones are most in demand?
Mechanical Engineering
Electrical Engineering
Accounting
Business Administration/Management
Economics/Finance
Computer Science
Information Sciences and Systems
Marketing/Marketing Management
Computer Engineering
Chemical Engineering
Major in Something 
  Not on This List?
Social science grads will find their analytic and statistical skills are in demand in the business and health care markets, as well as in the public sector. The writing skills of humanities majors are increasingly required in a world where many recruiters on college campuses are speaking out about the need for graduates who can compose letters and documentation in language free of instant messaging slang.

Dan Boos, President & Managing Principal of Gorillas & Gazelles LLC, a Perrysburg, Ohio professional services company, reports he received a letter requesting an interview that contained three misspellings and was written as if it were an email message. "I was only surprised to find that the introduction did not lead off with the greeting 'Dude!'" he notes. What Entry Level Employers Want

Although it ranks number six on the survey noted here, recruiters will tell you a student's grade point average (GPA) is very important in culling through the flood of resumes they receive for the hottest entry-level positions. But, this is mainly for the recruiters. Business people themselves are often oriented toward viewing it as an indicator of an individual's ability as a student. This is where the power of internships and work experience come in for the entry-level candidate.

Beyond grades and experience, entry-level employers also appreciate recent grads for their motivation, energy, eagerness to learn, knack for online networking and optimism. All of these are strong "unique selling points" that the entry-level candidate brings to the table. They give recent grads a strategic edge they may not have considered when interviewing for jobs that could just as easily go to those with more experience, and of course, those who also demand higher salaries - What Entry Level Employers Want Most
Employers Also Looking 
  for Two-Year Degrees
Employers are also looking for entry-level graduates with associate degrees in business, technology-related fields and engineering. According to employers hiring those with two-year degrees, candidates who have them often have more work experience than four-year graduates. They have also developed a good work ethic, making them a good choice for entry-level hiring. What's more they often enter the work force with a skill set unique to the positions they are looking for. This means employers spend less time training them, an increasingly large part of the budget for all types of organizations. In addition, their expectations in terms of salary and promotions are in line with marketplace realities
- What Entry Level Employers Want Most
 No College to Win
With These Factors
Across the board in all fields, entry-level employers agree that there are certain factors that help them know a candidate's potential for success. A survey by Society of Human Resource Managers asked 286 randomly selected human resource professionals to rate several factors in deciding who gets hired for jobs. The criteria most frequently rated either "very influential" or "influential" are all related to the here and now-not past decisions, such as your major, or whether you even attended college. Interview performance and professionalism in interactions, were the top factors that 95 percent of the human resources managers surveyed were looking for when hiring -
What Entry Level Employers Want Most

Only 53 percent of the human resources managers surveyed showed a preference for candidates referred by an employee in their company. This means today's employers look closely at a candidate's ability to fit the job in question more than their connections. This is good to know as entry-level workers may lack the strong network that comes with years of experience in a field and the contacts they may make through past jobs, years of client contact and long-term memberships in professional organizations. What Entry Level Employers Want

Many of the key generic skills entry-level employers seek-and which should be highlighted on your resume-can be cultivated regardless of your educational background. Beyond the basic skills of reading, writing, mathematical ability, and speaking and listening the list of top qualities employers seek include:
Critical Thinking Skills
Have the ability and desire to learn
Reason
Think creatively
Make decisions
Solve problems
Interpersonal Skills
Work on teams
Teach others
Serve customers
Lead
Negotiate
Know How to Allocate
Time
Money
Materials
Space
Staff
Personal Qualities
Individual responsibility
Self esteem
Self-management
Sociability
Integrity/Honesty

As you build your resume, leverage this knowledge on what entry level employers are looking for. Do your research and prepare well for that interview. No matter what career you have chosen to make your mark in, get ready to enter one of the most dynamic job markets in years! - What Entry Level Employers Want Most
---
What Entry Level Employers Want Most Article Source: M. Wolfe for AOL Find a Job What Entry Level Employers Want Most
Copyright ©2006-2023 For-Your-Dream-Career.com