Executive Cover Letters Example
Cover Letter Format for Executives


Executive Cover Letters sample generate invitations to interview and position yourself best to meet the needs of your employers Executive Sales Manager
---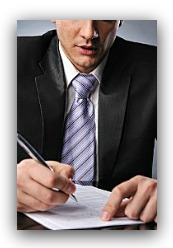 Executive Cover Letters Example

RICHARD H.VAN BURGUEN
4419 Sylvan Glen,Fairport,
New York 14450
(555)555-5555 Mr.Ralph Dixon,CEO
ABC Company
345 Main Street
New York,New York 10023



Dear Mr.Dixon:
Recognized as a dynamic management executive, I possess a career in successfully building and leading companies to profitability and growth. My expertise includes new business development, strategic sales and marketing campaigns, team leadership and operational management. Thoroughly versed in all aspects of business acceleration and experienced in business turnaround, I am considered a change agent capable of taking a company to sustained growth well into the twentieth century.Executive Cover Letters

For the past three years, I have served as Vice President for Sales and Marketing of Ramco Products, a multi-million dollar packaging and material-handing company, with sales throughout North America and expansion negotiations with Europe and Central America. I was recruited to plan and implement an aggressive sales and marketing plan to establish worldwide sales and capture international sales:under my tenure, revenue has increased by 70% with a 225% growth rate for a plastic packaging product.
Prior, I served as the Vice President, Sales and Marketing for Prevent Care, a multi-million dollar preventive maintenance company servicing U.S. commercial fleets. Accountable for marketing, sales and partnering with key accounts, I led my team in re engineering the company's strategies and we grew revenue more than 200% while fostering alliances with 3 new partners.

I served as the Vice President of Marketing with Sensi-Electronics Corp.,(an $800 million electronic loss prevention technology corporation, operating domestically and internationally), where I was accountable for directing the operations of the North America industrial and retail businesses($550 million). I successfully identified and captured new business through aggressive marketing tactics, including opportunities valued at $2 billion, and generated 15% incremental revenues. We were successful in differentiating the company from the competition by launching a technology protection program incorporating integrated systems vs.stand-alone commodity closed-circuit television products.

I launched my career with the worldwide leader in document solutions, Xerox Corp., and earned a series of fast-track promotions during a period of aggressive growth and expansion, and advance to the position of Manager, Market Strategies. As a member of the company's key task force, I contributed to the strategy accountable for expanding re-prographic market share from 13% to 26%.Executive Cover Letters

I hold a B.B.A. in Marketing and stay current in today's dynamic business climate through continual training.

Dynamic,results-oriented and highly motivated, I look forward to speaking with you and will contact you in the next 10 days to discuss your needs in greater detail.
Very truly yours,
RICHARD H.VAN BURGUEN
---
101 Best Cover Letters By Jay A. Block
Executive Cover Letters Example
Copyright ©2006-2023 For-Your-Dream-Career.com