Where Are The Jobs and How To Find a Job


Where Are The Jobs? By Jessica Dickler
The economy continues to recede, leaving massive job losses in its wake. But while layoffs are widespread, they are not across the board. Some industries are thriving -- and hiring. On Friday the Labor Department reported that 533,000 jobs were lost in November, which puts the year-to-date layoff total at a whopping 1.9 million. And with the unemployment rate now at 6.7%, job seekers face the worst job market in 15 years. But it's not all doom and gloom: A range of industries are posting gains in employment figures. Here's a look at them: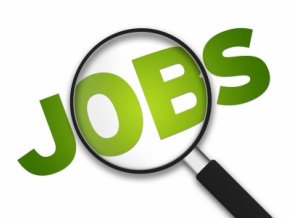 Education
With more people out of work and considering new careers, interest in degree programs, certifications and additional training has never been greater.

"Obviously some people will be out of work and see that as a chance to get additional education," said Dean Baker, director of the Center for Economic and Policy Research in Washington, DC, which will provide support - and jobs - to those in the field.

The education industry already added 9,800 jobs in November, the Labor Department said in its monthly report issued last week, and "there's still a wide range of opportunities available," according to Janette Marx, senior vice president of Ajilon Global, professional staffing firm. "It runs the gamut in the education field" beyond teachers and professors, she added.

In addition to greater demand for educators, also lending support to the sector is government financing, according to Baker. "Education will be an area that governments will try to protect because there's a lot of political support," he said.
Health Services
With an aging population and greater demand for care, health services is also adding jobs in a down market.

Where Are The Jobs? "The healthcare industry continues to be the healthiest sector in the U.S. job market," said Diana Fitting, vice president for staffing company Adecco. "The Baby Boomer generation is aging and it's helping to keep healthcare growing." Even in the midst of the economic fallout, healthcare employment grew by 34,000 jobs in November. Over the past 12 months, healthcare has added 369,000 jobs, according to the Labor Department said.

"Throughout 2008 the industry has continued to add thousands of new jobs each month despite the broader labor market turmoil -- and this is one trend we don't see ending any time soon," Fitting said.

At the Columbia University School of Nursing's Entry to Practice Program, applications are up 50% from last year. Mary Mundinger, dean of the school, credits the sharp uptick to the promise of relatively lucrative job opportunities and flexible schedules in an otherwise dour job market.

Options also abound at pharmaceutical companies, biotech firms and medical-equipment companies, said John Challenger, chief executive of global outplacement firm Challenger, Gray & Christmas.

In fact, healthcare products and pharmaceuticals were two of only nine industries that announced hiring plans in November, according to Challenger's latest job cut report.
Accounting
It's no surprise that accounting is gaining momentum as well. "This is our busiest time in terms of recruiting because we're gearing up for tax season," said Saran Johnson, human resources manager at Marcum & Kliegman, a New York-based accounting and consulting firm.

Johnson said overall "hiring has remained steady, while other business are cutting back or letting go," making accounting even more attractive to job seekers.

Especially in a recession, "accounting is a great field," Challenger said. "Companies are trying to cut costs and not over spend, that puts more importance on good financial controls which requires accountants."

In addition, with financial firms under intense scrutiny and regulation in high demand, there will likely be an increase in auditing firms going forward, added Lee Pinkonitz, associate professor at Georgetown University McDonough School of Business.

"There is always a need for mission-critical roles like accounting," added Kimberly Bishop, vice chairman of Chicago-based executive search firm Slayton Search Partners - by Jessica Dickler
---
Where Are The Jobs? - By Lisa Johnson Mandell

If you're looking for something, anything that might indicate a recovery, the latest US Department of Labor Statistics might give you a little hope. In essence, last month more states showed unemployment decreases than increases. To be exact, eighteen states and the District of Columbia recorded unemployment rate declines, while 14 states registered rate upswings. Eighteen states had no change at all. A full twenty-seven states and the District of Columbia reported unemployment rate decreases from a year earlier, while only 20 states posted increases, and 3 states had no change - by Lisa Johnson Mandell

But wait...there's more good news: Initial unemployment claims decreased by 31,000 last week, and in July, nonfarm payroll employment increased in 37 states and the District of Columbia and only declined in 13 states. The states that added the most jobs in July will probably surprise you.
Where Are The Jobs?

North Dakota continued to register the lowest jobless rate at 3.6 percent, followed by South Dakota and Nebraska, 4.4 and 4.7 percent, respectively.
Where The Jobs Are NOT

The states that lost the most jobs are:
North Carolina -- lost 29,800 jobs
New Jersey -- lost 21,200 jobs
Illinois -- lost 20,200 jobs
California -- lost 9,400 jobs
Kentucky -- lost 8,000 jobs

But the state with the absolute worst unemployment rate is Nevada which reached 14.3 percent in July. That rate also set a new series high. The states with the next highest rates were Michigan at 13.1 percent, and California at 12.3 percent.
Should You Move?

If it looks to you like you're living in the worst possible state to find a job right now, don't go packing your bags just yet. "You can search for a job anywhere online these days," says employment expert Doug Arms, SVP and Chief Talent Officer of Ajilon, a specialty staffing firm owned by Adecco. He notes that at certain levels, companies are still paying for recruiting and interview trips, and they still have budgets to help you relocate.

But even if you're not at that lofty level, Arms advises against permanently moving. "A lot of people moved out the California during the Gold Rush, and to work on the Hoover Dam, when it was being built. When they got there, they found things were not what they expected."
Booming Industries

Rather than basing your job search on geographic indicators, Arms suggests searching within the professional sectors that are flourishing. For example, if you're an accountant, bookkeeper, IT expert or transportation worker, instead of looking at traditional accounting, high tech or public transportation companies, try looking for a job in the private education sector (trade schools and private institutions) and in ambulatory health care (the baby boomers are aging, and increasingly need health care specialists to come to them). Both these industries need accountants, bookkeepers, IT specialists and transportation workers, in addition to educators and health care practitioners.

So, whether you're living in a state like Michigan, which is finally adding jobs again, or North Carolina, which continues to lose them en masse, consider widening your job search to cover the industries that are flourishing everywhere. It's estimated that there are more than three million jobs open right now, and someone's got to get them, so why not you?
---
Copyright ©2006-2022 For-Your-Dream-Career.com