Resume Writing Tips
Tips on Writing a Resume for Finance Professionals

Resume Writing Tips-2 | Resume Writing Tips-3 | Top 5 Resume Mistakes

By Kim Isaacs, Monster Resume Expert
Resume Writing Tips Finance and accounting professionals can find career opportunities in any business sector. Whether you're looking to be a CFO or controller, financial analyst or financial planner, portfolio manager or investment counselor, the requisites for the resume are the same. When developing your finance or accounting resume, focus on skills, areas of expertise, certifications and specific accomplishments. The resume must convey what you can do for the companies you are targeting. This can be accomplished by illustrating how you contributed to previous employers' or clients' fiscal health. Resume tips for finance professionals
    Resume Writing Tips
For Finance Professionals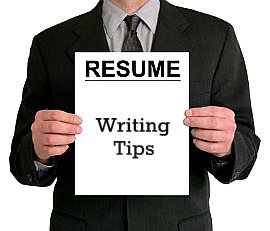 When developing your finance or accounting resume, focus on skills, areas of expertise, certifications and specific accomplishments. The resume must convey what you can do for the companies you are targeting. This can be accomplished by illustrating how you contributed to previous employers' or clients' fiscal health.
Identify Your Goal

Before you develop your resume, you must have a clear finance or accounting job target. Do some preliminary research -- review job postings, see what types of positions are available and which companies are hiring, and get a good feel for the desired qualifications. This research will help you determine the skills and experience you should emphasize on your resume.
Summarize Your Key Qualifications

When constructing your finance or accounting resume, summarize your strengths and key qualifications in the top half of the first page. This can be accomplished with the Professional Profile and Areas of Expertise sections. Here is an example of an opening paragraph for an individual seeking a CFO position:
Chief financial officer with 15 years of corporate accounting and management experience. Hands-on manager with expertise in accounting systems development, fiscal management and financial reporting. Proven record of developing and implementing financial and operational controls that improve P&L scenario and competitively position firm.

In reading this brief paragraph, a prospective employer or recruiter will immediately grasp the scope of this candidate's professional experience. Follow your profile section with an Areas of Expertise, a list of keywords pertinent to your finance or accounting career choice. In the case of the above candidate, the section might include the following terms:
Financial and strategic planning.
P&L management.
Auditing and compliance.
Accounting standards.
Operating and working capital.
Budget development and management.
Merger and acquisition negotiations.
Cash-flow management and modeling.
Business valuations.

The Areas of Expertise should highlight your specific skills and knowledge. You should also include your finance or accounting industry certifications and licenses, such as CPA, CFA, and Series 7, 63 and/or 64.
Emphasize Your Accomplishments

The rest of the resume delves into your professional finance or accounting background. Under each employer, present a brief paragraph describing your basic job responsibilities, followed by a bulleted list of accomplishments. Show quantifiable results of your work. For example:
Instrumental in revenue and income growth of 76 percent over a 15-month period, through both organic growth and acquisitions.
Increased cash flow by $15 million by consolidating credit-analysis function, reducing outstanding receivables from 48 to 15 days and minimizing risk from marginal customers.Resume Writing Tips
Keywords to Include in Your Resume

staff accountant, financial planner, cost accountant, portfolio manager, finance manager, financial reporting analyst, international controller, financial analyst, VP of finance, CFO, chief financial officer, treasurer, assistant controller, bookkeeper, accounts payable clerk, accounts receivable clerk, collections specialist, mutual fund analyst, credit analyst, payroll clerk, payroll manager, financial assistant, director of investor relations, procurement specialist, purchasing manager, fixed asset accounting, business process reengineering, risk management, value-added analysis, SAP, GAAP, financial projections, general ledger, trial balance, financial statements, expense analysis, tax reporting, tax planning, payroll, benefits administration, portfolio management, cross-functional team leadership, financial and strategic planning, P&L management, auditing and compliance, operating and working capital, budget management, mergers and acquisitions, cash-flow management, business valuations, data warehouse reporting, audits and compliance, A/P, A/R, regulatory accounting, CPA, CFA, MBA, MS Excel, bank reconciliations, Crystal Reports, Hyperion, spreadsheets.
---
Resume Writing Tips for Finance Professionals
Back to top
Back to Career Articles On Resume
Back to For Your Dream Career Home
Resume Writing Tips for Finance Professionals
Copyright ©2006-2023 For-Your-Dream-Career.com