Population Growth Creates Many 
Home Based Business


Population Growth Business Opportunities
Creates Many Best Home Based Business - Americans and Canadians are on the move - generally southward! In American Demographics,business futurist Stuart Bradford forecasts that as many as 50 million people may move to the South over the next 20 years. The migration south is being led by boomers surging past 50, but where the population and money are, work is too, so younger people and families are heading south as well.
                      Great Migration South and to Smaller Places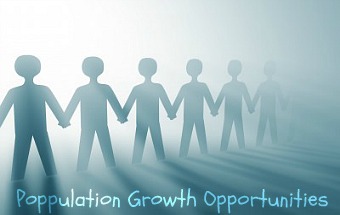 Geographical shift are not limited to the South. Smaller cities such as Burlington, Vermont; Columbia, Missouri; Fargo, North Dakota; Iowa City, Iowa; Northampton, Massachusetts; and Rochester, Minnesota are growing,too, as people choose less stressful environments to live in. Also emerging are micropolitanareas with one or more towns at their core and at least 10,000 but fewer than 50,000 people, surrounded by growing populations in adjacent counties. These core towns have names most people don't recognize: Edwards, Colorado; Rio Grand City, Texas; Daphne-Fairhope, Alabama; and Elko, Nevada. They draw people because the core towns have basic infrastructure, and the adjacent areas offer lower-cost real estate.

New Population Growth Creates Many Home Based Business Opportunities. A home-based service business that is pressed to make ends meet in a slow-growing area such as Cleveland, Detroit, Milwaukee, Philadelphia, or Toledo, after having relocated to a fast-growing area such as Phoenix, Atlanta, or Las Vegas, may have so much work, it finds itself turning customers away or raising its prices to screen out bargain hunters. In fact, a northern work ethic may be sought after by customers in places where "native boys" are known to work only when they "get round to it."
What kinds of business will do best? Although geography no longer plays the dominating role for many businesses as it did when the mantra was location,location,location, local clienteles can be important in that they provide face-to-face interaction with colleagues and suppliers. Places with growing populations and expanding economies are most apt to provide both. So virtually all the businesses described for the other nine trends will find fertile ground in growing areas.

In addition, businesses that involve homes and real estate do well in growing areas, including things that can be done at or from home, such as:
Cleaning Services
Drafting/Design using CAD
Handyman Work
Home Inspection
Insurance Sales and Independent Adjusting
Landscape and Garden Design and Installation
Real Estate Sales and Specialties such as
staging homes for sale and the video work
needed for virtual tours that appear on Web sites
real estate Appraisal
Remodeling Contracting

But what if you live in a city or region that losing population, and because of family or other reason, you don't want to move? With population loss, businesses that formerly were operated in storefronts and in offices retreat home, lowering their overhead. At the same time, acceptance of businesses located in homes rises, because this may be the only way of having goods and services available nearby. Would-be competitors may have followed the crowd and moved away, leaving you king or queen of the hill,though one that may continue to shrink in size.
By Paul Edwards - Population Growth Creates Many Home Based Business Opportunities
                 Population Growth Creates Many Home Based Business
                                              Related Information
---
Population Growth Creates Many Home Based Business Opportunities Resource:
Home-Based Business For Dummies (For Dummies (Business & Personal Finance)
- Authors: Paul Edwards and Sarah Edwards
Population Growth Creates Many
Best Home Based Business
Back From Population Growth Creates Many Home Based Business Opportunities
to Home Based Business Ideas Main Page
To For Your Dream Career Home Page
Copyright ©2006-2023 For-Your-Dream-Career.com